Thought Leadership Essays
News
Thought Leadership Essays
IPRA thought leadership (ITL) essays deliver relevant and engaging content for anyone involved in Public Relations with an international dimension. They provide valuable insight and forthright opinion on the key trends and live issues that really matter in the fast-changing world of Public Relations today.
By: Jennifer Leppington-Clark 15/07/2019

Companies must give sufficient power to their local people on the ground so that they are able to implement what makes sense in their markets. By Jennifer Leppington-Clark.
By: Jon Meakin 08/07/2019

PR is yet to properly get to grips with measurement and evaluation, even though it is arguably the most pressing challenge the profession faces. By Jon Meakin.
By: Claudia Pritchitt 01/07/2019

Some pundits suggest PR is in decline. Yet the wide-ranging changes of recent years have brought great opportunities for growth. By Claudia Pritchitt.
By: Deeped Niclas Strandh 24/06/2019

A longstanding consensus culture has been replaced by people taking sides. What opportunities does the polarised discourse offer brands? By Deeped Niclas Strandh.
By: Phil Lobel 17/06/2019

Today you can dramatically increase the number of eyes that see a traditional media hit, allowing you to reach audiences you would not previously have considered possible. By Phil Lobel.
By: David Eisenstadt 10/06/2019

Cyber-attacks and data breaches can be incredibly damaging. Organizations must get on top of managing the risk. By David Eisenstadt.
By: Bryan Harris 03/06/2019

How can independent agencies overcome cultural barriers and forge successful partnerships with clients based in a different part of the world? By Bryan Harris.
By: Svetlana Stavreva 27/05/2019

After an 11-year gap, there's a fresh addition to the prestigious IPRA Gold Paper series. This fascinating new study underlines how digital executive reputation is an increasingly important aspect of a company's accountability. By Svetlana Stavreva.
By: Bidemi Zakariyau 20/05/2019

After a slow start, influencer marketing is set for strong growth in Nigeria as agencies, brands and influencers begin taking a more sophisticated approach to effective collaboration. By Bidemi Zakariyau.
By: Delphine Jouenne 13/05/2019

Definitions have been distorted and important words have lost their true meaning. Communicators must turn the tide against the twisting and debasement of language. By Delphine Jouenne.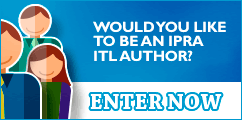 Tweets by @ipraofficial