Thought Leadership Essays
Viewing posts from May, 2016
By: Anne Costello 30/05/2016

In order to thrive, PR must dispense with outdated talent parameters and hire more 'T-shaped' practitioners who possess wide-ranging skills alongside great depth of knowledge in one specific area. By Anne Costello.
By: Susanna Simpson 23/05/2016

How can you ensure your business stands out from the crowd and is perceived as a genuine expert in its market? By Susanna Simpson.
By: Robert H Holdheim 16/05/2016

Clients are demanding PR agencies move beyond a traditional approach. Although new models remain unclear, no one doubts that building trust will be intrinsic. By Robert H Holdheim.
By: Jane Hammond 09/05/2016

Rotary International is renowned for its good works. Helping the organisation is an opportunity for IPRA members to support deserving causes while furthering understanding of strategic communications. By Jane Hammond.
By: Hubert Wisse 03/05/2016

The PR world is in two minds about whether or not to implement the Barcelona Principles. By Hubert Wisse.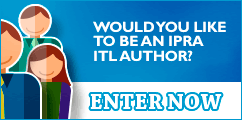 IPRAOfficial