Thought Leadership Essays
Viewing posts from May, 2017
By: Lars-Ola Nordqvist 29/05/2017

The communications landscape is being transformed and client needs have become more complex. But these sweeping changes have thrown up an opportunity for PR practitioners to redefine themselves as sales, marketing and communications strategists. By Lars-Ola Nordqvist.
By: Danny Cox 23/05/2017

Employers expect a return on the investments made in developing their people. Not easy, given the mindset of many younger workers. By Danny Cox.
By: Juan F. Lezama 15/05/2017

Language is evolving faster than ever. As new terms and usages catch on among certain demographic groups, communicators need to think carefully about if and when to use them. By Juan F. Lezama.
By: Paul Wilkinson 08/05/2017

In the age of data journalism and with trust and transparency of critical importance to organisations, PR practitioners must learn how to use open data appropriately to inform and influence. By Paul Wilkinson.
By: Rob Gray 01/05/2017

The IPRA GWAs are the only truly global PR awards. The good news is, there's still time to enter this year's competition. By Rob Gray.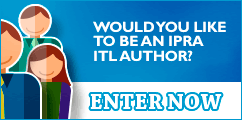 IPRAOfficial