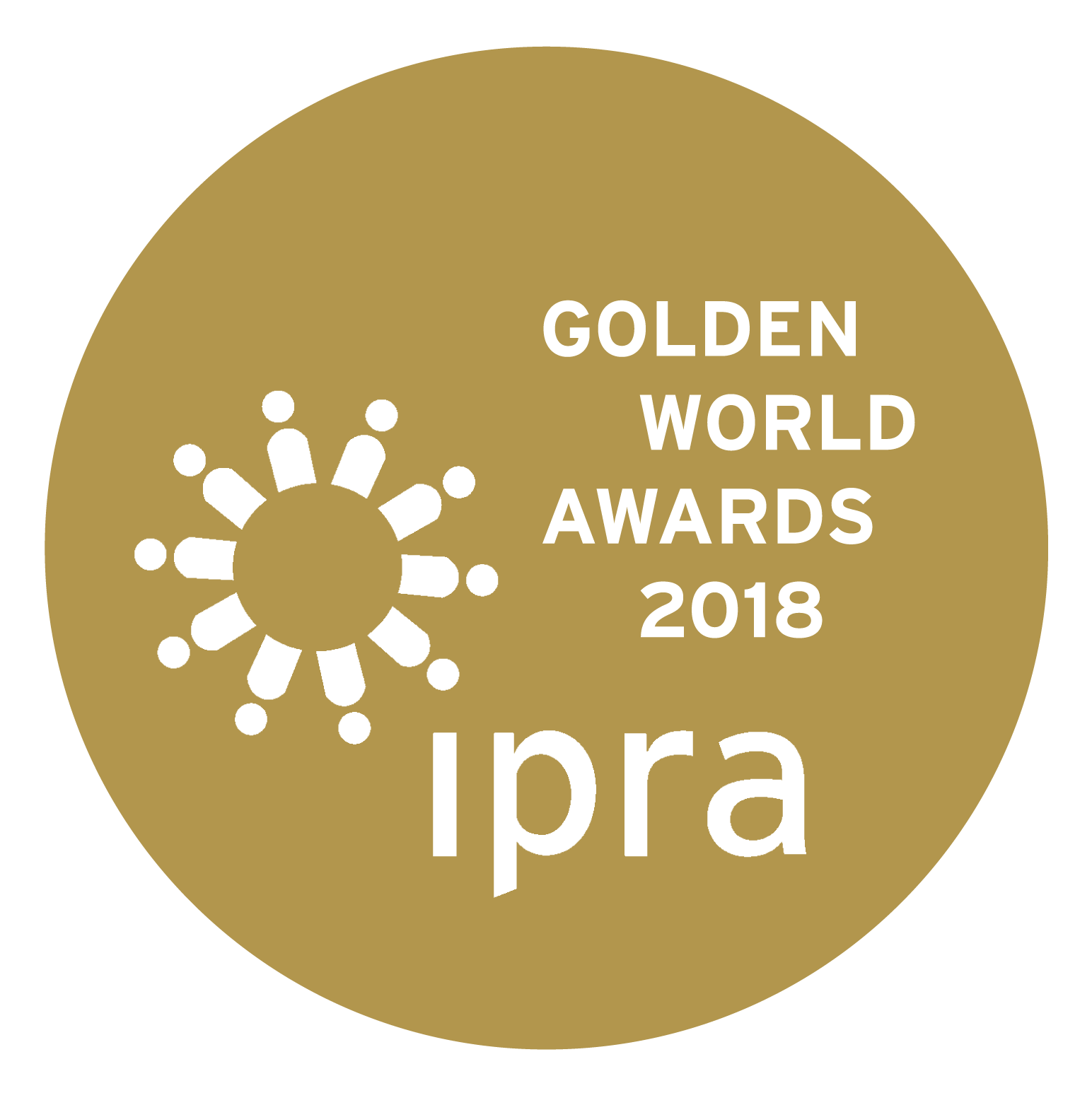 GWA 2019: Background and Frequently Asked Questions
Background to the GWA
What are the GWAs?
IPRA's Golden World Awards for Excellence in Public Relations, established in 1990, celebrates each year the outstanding achievements of global communication professionals. The annual GWAs also bring together the profession and its practitioners and offer a platform for collegial exchange and learning.
Who is the organization behind it?
IPRA, the International Public Relations Association, is the leading global network for public relations professionals. Membership is individual not corporate. It aims to further the development of open communication and the ethical practice of public relations. IPRA fulfils this aim through networking opportunities, its code of conduct and intellectual leadership of the profession. With 60 years of experience, IPRA, recognised by the United Nations, is now present throughout the world wherever public relations are practiced. IPRA welcomes all those within the profession who share its aim and who wish to be part of the IPRA worldwide fellowship. Through its networks, IPRA represents over 12,000 communications professionals around the world.
2019 Dates and Deadlines
Entries open 26 February 2019.
Entries close 13 May 2019.
Any entry received after 13 May 2019 is ineligible.
2019 Fees
The basic fee is £370 per entry. There is a discount for early-bird entries and a penalty for late entries.
Early (Tuesday 26 February – Monday 25 March 2019 £340
Normal (Tuesday 26 March – Monday 22 April 2019) £370
Late (Tuesday 23 April – Monday 13 May 2019) £400
Frequently Asked Questions
1. Who can apply for the GWA?
The GWA is open to all communication professionals, from such diverse fields as public relations, corporate and internal communications, brand building and reputation management. Companies, consultancies, associations, institutions and NGOs can apply. IPRA encourages entries from universities and educational institutions.
2. What are the entry requirements and qualifying dates for entries?
Entries must be submitted to IPRA online. Entries must be for PR programmes that "completed" before the start date of the annual competition.The programmes may have started one or more years before this. By "completed" we mean that you must have enough information to be able to answer section 6 "Outcome and Evaluation."
3. How many categories may I apply for?
Any organisation may submit an unlimited number of entries. Each entry attracts a unique entry fee.
4. Can I submit the same entry in multiple categories?
Yes. There is no limit. Entries can be submitted into as many applicable categories as you believe appropriate. This increases your chance of winning. Each entry attracts a unique entry fee.
5. What are payment methods for entry fees?
After Entry Submission, you will be directed to a payment page with options to pay in preference via credit card. You receive an invoice for your records imediately after payment.
6. Are there discounts or fee waivers?
No.
7. Who are the judges?
The IPRA GWA Jury is comprised of leading communications professionals from around the world, representing companies, agencies, associations, institutions and universities.
8. Are judges barred from entering the GWA?
No. However judges are barred from judging an entry in the category they have submitted.
9. What am I judged on?
Each entry will be judged on the basis of six criteria. The total number of words for all six criteria must be a maximum of 1800. Follow the word-length guidelines for each criteria in the on-line form.
1.

Overview

(100 words)

Summarise the entry as if you were writing a press release: client (if applicable), problem or opportunity, creative execution, outcome
2. Problem or Opportunity (200 words)

Organisation for which the programme was conducted.

Problem or opportunity addressed.

Geographical area of the programme.

Measurable objective by which success is evaluated (summary).
3. Research (300 words)

To define the problem or opportunity.

To determine approaches for the programme.
4. Planning detail (400 words)

Communications objectives

Measurable objective by which success is evaluated (detail).

Target audiences to be reached and actions desired of them.

PR messages to target audiences.

Communication tactics used.

Consultation with management to secure its support.
5. Execution (400 words)

Implementation of the communications plan.

Creative solution.

Difficulties encountered and adjustments made during implementation.
6. Outcome and Evaluation (400 words)

Identification, analysis and quantification of results.

Tangible results which achieved the measurable objectives.
10. Can I get feedback from judges on my entry?
Due to the high number of entries, IPRA is not able to give individual feedback for entries.
11. How does judging take place?
Judging will take place in two rounds. After the deadline for entries has passed, our Jury will review all Entry Summaries and by online voting, determine a shortlist per category. The first round serves to identify the finalists who will be invited to submit a dossier of Supporting Material to the Jury. During a full-day jury meeting, shortlisted entries are then judged against the six Criteria. In considering entries, the judges may grant one, several or no awards in each category. The IPRA Grand Prix for Excellence and the Global Contribution Award will be selected by the Jury from the category winners.
12. When do I hear about GWAs awarded?
The Jury's final choice in each Category will be announced after the judging in July. The Grand Prix and the Global Contribution Award will not be revealed until the GWA Gala towards the end of the year.
13. What does the GWA trophy look like?
A custom-designed GWA trophy plate will be presented to all award winners at the Gala event. Award winners may purchase additional trophy plates directly from IPRA.
14. Are any special awards given?
There is a special Global Contribution Award for PR with an objective of meeting one of the UN's 17 Sustainable Development Goals.
15. What content is expected in the Supporting Material?
The Supporting Material should add media for each entry but there is no need for more text. Consider such things as:
photos

organisation logo (yours, your clients, your partners)

links to videos

media articles, press clippings and social media content.
16. When are the awards presented to winners?
The winners will be announced and presented with their awards at the IPRA GWA Gala which takes place in changing locations and venues around the world at the end of the year.
More information
If you have any questions please email the IPRA secretariat [email protected]
The office is open Monday to Friday from 08.00 to 17.00 GMT.