Thought Leadership Essays
News
Thought Leadership Essays
IPRA thought leadership (ITL) essays deliver relevant and engaging content for anyone involved in Public Relations with an international dimension. They provide valuable insight and forthright opinion on the key trends and live issues that really matter in the fast-changing world of Public Relations today.
By: Karena Crerar 06/03/2023

Communicators must be ever more careful about where content is placed, tailoring campaigns to platforms of most relevance to clients. By Karena Crerar.
By: Yvette Sterbenk 27/02/2023

Amid growing polarization, organizations should consider building specialized capability focused on corporate activism, social justice, and advocacy. By Yvette Sterbenk.
By: Andrew Adie 20/02/2023

The Communications industry has a key role to play in putting ESG into a context that focuses corporate minds on the opportunity and imperative of doing good through business. By Andrew Adie.
By: Polka Yu 13/02/2023

Human truths must underpin creativity if brands from APAC are to make an international impact in this era of geopolitical tension. By Polka Yu.
By: Anthony D'Angelo 06/02/2023

The AI revolution is here today and the Comms profession risks becoming irrelevant tomorrow if we do not move from slight familiarity and passivity to strategic application. By Anthony D'Angelo.
By: Borja Iglesias 30/01/2023

Trends include growth in Cybersecurity influencers driven by the rise of cybercrime, cyberwarfare and a global geopolitical instability. By Borja Iglesias.
By: Greg Wright 23/01/2023

How communications professionals working at corporations and nonprofits can ensure their messaging is on point and balance the needs of staff who are working in different geographic locations on a variety of issues. By Greg Wright
By: Lukasz Wilczynski 16/01/2023

Central and Eastern markets of Europe are an important part of the marketing and communication world and need to be observed closely. Their potential is not being fully used, which is a big mistake. By Lukasz Wilczynski.
By: Dr. Dean Kruckeberg 09/01/2023

The global public relations professional community has the knowledge and wisdom to help provide leadership and guidance in their organizations in helping to resolve the immense challenges in today's global society. By Dean Kruckeberg.
By: Daisy Pack, HUNTER 03/01/2023

In the age of Zoom, meeting in person helps build trust, promotes the exchange of ideas, ensures instant clarification when needed, and validates emotions. By Daisy Pack.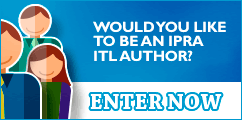 IPRAOfficial