News
News
Thought Leadership Essays
By: Mohammed El Batta 05/11/2018
Treating the Middle East as a single, undifferentiated market is a mistake when all is going well. But a one-size-fits-all approach is an even bigger error at times of crisis. By Mohammed El Batta.
By: Gerry McCusker 29/10/2018
Is being shameless now a widely accepted strategy? And what does that mean for ethical PR and reputation as a calculable metric? By Gerry McCusker.
By: Farzana Baduel 22/10/2018
Museums, educational institutions and tourism play a significant role in shaping international perceptions of a location and can pave the way for investment by foreign businesses. By Farzana Baduel.
By: Jaideep Shergill 15/10/2018
Strategy and outcome-focused agencies are benefiting from the massive changes sweeping through India. By Jaideep Shergill.
By: Raymond Frenken 08/10/2018
The European Banking Federation is using fun online learning on an international scale to teach teenage schoolchildren about debt, compounding interest and other important lessons about saving and borrowing with a view to improving future financial wellbeing. By Raymond Frenken.
By: Guy Esnouf 01/10/2018
Should your Chief Communication Officer* be your chief communications spokesperson? By Guy Esnouf.*Other titles are available
By: Joanna Oosthuizen 24/09/2018
Brands need to balance global alignment with local relevance if they are to matter to consumers. By Joanna Oosthuizen.
By: Laura Hindley 17/09/2018
Although piggybacking on a story already making headlines and setting your own news agenda are different approaches, both present opportunities for building brand reputation and driving commercial success. By Laura Hindley.
By: Lee Nugent 10/09/2018
When marketers partner with machines, they can tell stories that are more effective, engaging, and even empathetic. By Lee Nugent.
By: Andrea Anders 03/09/2018
ITL #285 Professional empathy: A skill often overlooked in marketing communications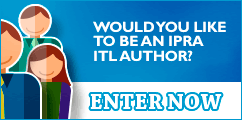 Tweets by @ipraofficial