ITL #335 Thought leadership: into the new

3 years, 6 months ago
(Comments)
Accenture has introduced a new thought leadership philosophy and process that allows it to shape the narrative of each story and sharpen its angle at an early stage. By Stacey Jones and Jill Kramer.
If ever there was a time when authentic, credentialed thought leaders were needed in the world, it's now.
The unprecedented pace of change and the viral effect of social media and its impact on credibility make it more challenging for businesses and industries to find respected, objective strategic counsel.
At Accenture, we're fortunate to work at a company with a globally recognized expertise in myriad industries, a sophisticated research capability, and no shortage of fresh analyses and powerful data.
In fact, the power of our people and ideas stretches across the globe: Accenture is a $43 billion professional services firm operating in 52 countries across 40 industries with nearly 500,000 people who offer a depth of expertise and diversity of perspectives on numerous topics that are mission-critical for businesses
Of course, that's both the good and the bad news, since it creates a quandary: With so many important ideas to share, how do we select the right thought leadership output to maximize the impact of our most important ideas? And how can we make sure that each of our pieces holds the greatest potential for our clients?
A thought leadership transformation
In the last year, Accenture has reinvented the way we bring our best thinking to our clients, as a way of enhancing our brand and our place in the market and better leveraging our excellent research capability, which was already in place.
The commitment to this initiative began with the attention of our CEO, who agreed on the significance of thought leadership to the future of our organization. In addition, our leadership recognized that the change meant we would evolve our "entrepreneurial" approach to thought leadership to one that focused our resources on developing and sharing our most provocative ideas. And we had enthusiastic partners in our world-class research team, led by Francis Hintermann, who were all passionate believers in the change.
Enter our new Chief Marketing and Communications officer, Amy Fuller, whose experience in the thought leadership space is custom-suited to this mission and aligns with her larger vision to transform our overall marketing and communications function. Her overall perspective is based on the clear understanding that, more than a staple of professional services marketing, thought leadership reports are drivers of persuasion.
As part of this dynamic transformation, we had to become even better at harnessing, enabling and operationalizing the way we collaborate with leadership. We also had to redefine/refocus our business accountability, enforcement and education of the new processes and digital distribution methodologies.
This meant shifting from promoting segmented pieces to developing ones that define the business and social concepts of our time. And we had to steward the best thinking, borne of our abundant experiences and valuable knowledge, into a complex, global business world. In short, we had to ensure our target audiences would easily find and consume information. That is, we had to better tell the right story to the right clients at the right time.
How would we do it?
Marshalling Our Insights
The first step was the development and introduction of a project leadership team comprising marketing, research and the business, supported by streamlined creative for all reports, as well as by new processes and production and packaging guidelines.
The program was grounded in targeting the best audiences and media through a disciplined process guaranteed to showcase the best thinking in the organization and delivered to the right target audience segments. That type of high precision marketing, executed globally, would ensure that our excellent research was the centerpiece of our broader marketing engine, reaching the right targets more effectively with relevant and compelling ideas.
We craft each report into digestible formats, across all distribution channels and geographies. With the help of our global research team, we are providing local markets with regional-specific cuts of data, so they can adapt our messages as appropriate. We also adapt them for various languages, cultures and geographic realities, ensuring their relevance enhances as we share it around the globe.
A case in point: Our "Getting to Equal 2019" research report, which was published for International Women's Day celebrations during 225 events in nearly 50 countries, showed how workplace culture drives innovation, a message that inspired clients, prospects and the media alike.
With 600 pieces of quality, positive news coverage across 32 countries and leaders featured in top-tier outlets in France, India, Ireland, Spain and the U.S., we convened a global dialogue about the research. We produced videos based on the data, and to increase our virtual reach we accelerated engagement through digital and social content. That effort achieved more than five million views. We have even won awards recognizing our success.
Notably, we have centralized thought leadership governance with a board comprising senior leadership. And, it's important to note the irony of what could be perceived as bureaucracy leading to even more provocative and insightful work. The committed board uses a "scorecard" to evaluate each potential piece of thought leadership on a handful of criteria: it must be insightful, relevant and marketable. The scorecard forces us to be strategic about the messages we send out and to ensure we are tightly linking our ideas to the trends emerging in the greater business and cultural landscape.
One clear result: project leadership team members believe in their contributions and have strong ownership over their piece of the project. At this year's World Economic Forum conference, one of our senior leaders praised a beautifully designed, polished and printed piece we launched. While acknowledging that the new approach wasn't easy for everyone to embrace, he said, "I like this new process. Now I get to focus on what I know, and what I do best."
Benefitting from an overhaul
Today, we value the way the new thought leadership philosophy and process allow us to shape the narrative of each story and sharpen its angle at an early stage. We immerse ourselves in the data, problem-solving directly with survey designers, script writers, media coordinators and on-the-ground consultants with success stories to share.
Such early focus and integration across teams help the results sell themselves. And when complex ideas are distilled into memorable messages and packaged with striking design and high-quality writing, we know our brand is visible and shining.
Transforming our approach for research such as "Getting to Equal" changed the culture around our thought leadership. From our perspective, there now is no better way to promote the strength of our talented people. And the effort has more closely aligned marketing with Accenture's business strategy.
Ultimately, innovating in an industry that's changing constantly requires a vision to reimagine a massive global organization for the future and the expertise to get it done.
We are now delivering data-driven marketing and communications—with great thought leadership as its engine—as never before. As we bring our thought leadership into the new, the result is measurable outcomes which drive further optimization, creating a virtuous cycle of brand and business growth.
The authors
Stacey Jones is Global Corporate Communications Lead at Accenture. Jill Kramer is Global Brand and Advertising Lead at Accenture.
Email
Website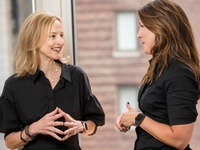 Forward, Post, Comment | #IpraITL
We are keen for our
IPRA Thought Leadership essays
to stimulate debate. With that objective in mind,
we encourage readers to participate in and facilitate discussion.
Please forward essay links to your industry contacts, post them to blogs, websites and social networking sites and above all give us your feedback via forums such as IPRA's LinkedIn group. A new ITL essay is published on the IPRA website every week. Prospective ITL essay contributors should send a short synopsis to IPRA head of editorial content Rob Gray
email
Share on Twitter
Share on Facebook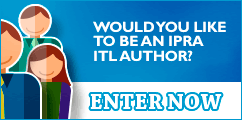 IPRAOfficial