India's Online Explosion

16 years, 2 months ago
(Comments)
With the notable exception of its leading retailers, India is embracing the internet with a passion. Dilip Cherian assesses the impact of burgeoning online activity.
Indian society has always searched for appropriate solutions to exploit the wisdom of crowds. After all, India is the land of the empowered panchayat, of historic multiculturism, of village 'haats' and aggressive affirmative action.

Despite the fact that the last elections saw us at Perfect Relations generate substantial action in the e-space, at least on the PR front, there is still little acknowledgment that web PR is about to change the dynamics of how India functions at the core. Clearly, even winning elections is not a substantial enough proof-of-concept.

Besides the obvious advantages of connectivity and simultaneity for using Web techniques, most political pundits now accept that the appeal of the Net for taking voting decisions, extends well beyond the young urban elite, who naturally prefer this medium. And, everybody recognizes the fact that it's going to keep changing fast – in terms of sheer volume, aggression and penetration.

The way online PR is sold in India at the moment, it usually seeks to ape traditional PR. But this is ridiculous because it's a different genre, and compatible and comparable only if classified superficially, or actually incorrectly. It's essentially a deviant on steroids, and will eventually be delivered increasingly by creatures known as cyberbots, soon perhaps to be replaced by "web-droids". But the art of managing publicity about an organisation and its brands, products or web sites through a carefully crafted online presence is a significantly different task.

Bollywood Blockbuster

The emergence of online PR in our country today is a result of the collapsing cost of the Communication Revolution. Of course, Indians living abroad have been amongst the first movers. When Buzz, India's biggest player in the Bollywood PR business, decided to harness the power of the Internet in 1999, sceptics scoffed. But given the fact that the target audience for the subsequently blockbuster movie 'Taal' was overseas, the campaign worked brilliantly. And in a sense, PR for the Internet age had penetrated the most influential bastion of media in India.

Today this is no longer in doubt. The Internet, as a marketing communications tool, is growing at a breakneck speed in India. And if Amul wants to battle with Wal-Mart and if Ritu Beri wants to combat with Roberto Cavalli, then Indian corporates and service providers have to recognize that the Net is a crucial element to their communications arsenal for now and in the future. This is where the rest of the world, after all, is increasingly putting its marketing muscle. And, even more importantly, this is where the Indian consumer of tomorrow will be available in the battle for mind-space.

The depth of penetration of the Internet in our country is evident from the fact that the total revenues from e-commerce in 2006, by some estimates, have far outstripped even an offline money machine like Bollywood. In addition, India already has the seventh largest population of Internet users and studies indicate that by 2010, India will have the world's third largest Internet population. It's also going to be young – the world's youngest in fact – altogether a fissile combination for tomorrow's share-of-voice hunters.

Changed Scenario

It seems like just the other day when opportunities for corporate news being published were limited, and quite often companies and their PR agencies had to bang their heads against the wall, thinking of ways to get a few mentions in the print media. Almost overnight, the scenario has changed. Mushrooming news portals, websites publishing news, and online versions of print publications have opened new windows for corporate and not-so-corporate news publishing.

With minimum effort one can extend PR to the online community with just a PC and an Internet connection. It is a revolution that is bringing big rewards to both PR agencies and their clients and driving vastly high levels of both responsibility and credibility.

Studies show that 40 per cent of Internet users who reported researching products online in 2006 apparently bought those products offline at a neighbourhood store or via some other offline channel, underlining not just income and consumption patterns but also the importance of having a user-friendly website and strong web presence – both critical elements of 360 degree web communications programmes.

So, it is completely mystifying as to why leading retail players like Reliance Retail, Subhiksha, Aditya Birla Retail and Bharti do not have a dedicated website of their own, relying usually on just a press release or media kit to disseminate information about the venture. Given that in India it is more than likely that Net users are usually the first movers in terms of product trials and adaptation, this glaring omission is potentially dangerous. Happily though, PR is probably the only part of their recent and current operations that is even remotely Net-friendly.

Dispensing with Boundaries

Online PR brings other unparalleled advantages with it. It is quick to publish, often just a few minutes after one has dispatched the story, and can be forwarded to clients and friends immediately. And to top it all, it knows no boundaries. A press release dispatched from Dubai could be posted on websites based in New York, London and New Delhi within minutes of sending it.

Of course, one has to recognize that bad news travels equally fast. So the permanent hop-on state of readiness of e-PR is infinitely higher today than it was just a few years ago. There are dozens of lists of companies outside the technology vertical, that had less choice on this issue, that have successfully benefited from well-planned online PR campaigns.

The Indian PR industry today is making a concerted effort to educate those new to the business about new PR channels such as search engine marketing and marketing with social media. Most industry in India have not fully embraced this shift, or become successfully involved with online communities such as social networking, blogs and search.

External Forces

Currently the drive, to push for cutting-edge combining of available technologies, still comes from outside. For example, there is substantial ongoing work within our own agency, Perfect Relations, on creating a "Your Singapore Experience" set of Net-based initiatives, including a contest using sites like Google, Yahoo!, Orkut and Facebook, where the physics of communications is through their already existing web communities, and through a dedicated blog and supported by online articles, separately created for the Singapore government. It's all directed at a young Indian audience, besides similar audiences in three other target markets in different countries.

Online PR, in even its most primitive form, has brought to the doorstep of PR practitioners a friendly and highly effective medium that asks few questions, demands little and provides great value for money.

It is beginning to challenge the impact of conventional media. Not least because of the blatant manner in which some of the old media are seeking to encash the benefits of the past. Or at least that's what the nasty blogs now say.
Forward, Post, Comment | #IpraITL
We are keen for our
IPRA Thought Leadership essays
to stimulate debate. With that objective in mind,
we encourage readers to participate in and facilitate discussion.
Please forward essay links to your industry contacts, post them to blogs, websites and social networking sites and above all give us your feedback via forums such as IPRA's LinkedIn group. A new ITL essay is published on the IPRA website every week. Prospective ITL essay contributors should send a short synopsis to IPRA head of editorial content Rob Gray
email
Share on Twitter
Share on Facebook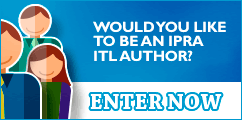 IPRAOfficial