ITL #460   Let's bring them to the table first: the seven-course meal can follow

1 year, 7 months ago
(Comments)
In the age of The Great Resignation we need a Great PR Talent Rethink. By Melissa Arulappan
 There's a new term that has made its way to the talent and management lexicon. It's called The Great Resignation, a term that has created a real buzz as organisations the world over grapple with what is playing out and what is to come. Various reasons are being ascribed to The Great Resignation, for me the best explanation lying in lexico.com's example of using exodus in a sentence – "the annual exodus of sun-seeking Canadians to Florida".
While the PR industry is not immune to The Great Resignation, for those of us who have been in PR long enough to remember, talent has always been an issue. Every year end report on the industry, every new year prediction has always flagged the paucity of talent as one of the major challenges facing the industry. It does seem odd therefore that a major challenge the industry faces, and universally so, has continued unabated over the years and not received the same level of focus and attention as other major concern areas such as measurement. Could it be that competitive pressures of having to tap into the same finite pool of talent prevent the industry from owning and addressing the issue collectively?
It's hard to answer the question but The Great Resignation has just added another layer of complexity to talent retention in our industry as organisations compete to create the lure of 'sun-seeking' Florida. But that's just one half of the battle. The more challenging half is in ensuring there is a strong pipeline of PR talent available to the industry. In a recent dipstick survey I conducted of senior PR/Corporate Communication practitioners in India, 90% of the 64 respondents agreed that there is a talent crunch in the PR industry. It was true decades ago. It is true now.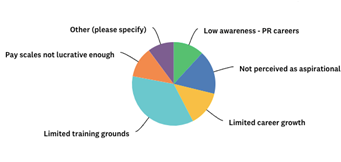 Reasons for Talent Crunch in the PR Industry  (from a dipstick audit of 64 senior PR  practitioners)
The reasons attributed by the respondents for the talent drought can clearly be clustered into three buckets: those within the ability of organisations to address like pay scales; those academia and educationists need to address like limited training grounds; and those that the PR industry (including academia) need to collectively address – that of promoting PR as an aspirational career and building clear pathways for growth. This is not going to be easy if one goes by what recent research is telling us.
In the 2021 Asia-Pacific Communications Index, a landmark study of Asia-Pacific in-house communications professionals, almost, one in four respondents said they would not choose communications if they were to restart their careers. To one who has spent more than three decades in PR, that is a disturbing datapoint. For an industry that has spent years helping organisations build an employer of choice branding, and successfully so, it's time we look in-house and start building PR as a career of choice. After all, charity does begin at home and our success as an industry will be dependent on our ability to nurture great PR professionals.
There's more, however, that will be needed to strengthen the talent pipeline, including:
Closer practitioner-academia interactions. There is no better learning for PR students than from experienced practitioners, particularly since the very nature of the discipline is practical. Whether it be through guest lectures, workshops, seminars, joint research, co-creating curriculum, the industry needs to play a more active role in passing on wisdom and learning to students and building a strong community of practice. Internships must be packaged to excite and secure a student's future in PR. Sadly that is not always the case. At institutes where I teach PR, I've seen students totally disillusioned with PR post their internships. Rather than treating internships as an opportunity to invest in potentially long term talent, at times they are viewed as extra hands to assign routine and uninspiring work.
Creative recruitment. If we cannot find talent within the PR industry, we need to look beyond at those who may not have a communications degree but have the skills and potential. I am reminded of a hospitality graduate, then a salesperson in a patisserie, who had no experience or qualifications in PR and who I recruited in my consultancy days to work on a hospitality account. She soon grew into the role of an Account Manager, holding responsibility for an envious portfolio of consumer accounts, and moved out a few years later to work as an independent PR consultant. She is today, in my opinion, one of the best PR practitioners in the country, much respected by both clients and media and doing outstanding work. Recruiting from other disciplines has the added value of bringing new insights to our industry.
Steps to Address the Talent Shortfall in PR  (from a dipstick audit of 64 senior PR  practitioners)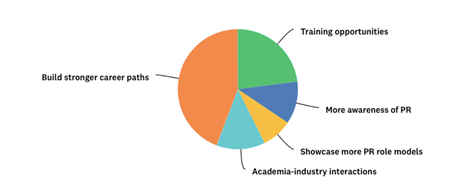 Organisations are not going to have it easy with the other half – of retaining employees. There's already so much being invested in to retain employees (particularly women who are faced with a different set of challenges in progressing their careers in PR), ensure better diversity, create healthy gender equality, cater to the needs of Gen Y and Gen Z, and now there's the pandemic and The Great Resignation. The concept of an office is no longer a physical structure but emerging as one that needs to have a strong emotional tag, delivering on experiences that employees are looking for – of purpose, shared values, empowerment and flexibility to be the sun-seekers. None of these on their own will be enough.
"Our research shows employees want a fair deal. They want a culture that's inclusive and safe. And they want agency to do their work on their terms…This is the moment for companies to re-imagine their employee experience for a much different employee-employer relationship in the future," says Kate Bullinger, CEO, United Minds, whose recent global study revealed meaningful work matters as much to employee experience as compensation and flexibility.
It could also mean that we need to be thinking about what career pathways for PR professionals of the future could look like. A PR career may no longer be an end in itself. How do we open possibilities for practitioners to not just grow within the profession, but into other roles within organisations, and even board positions? What will it take to help them get there? Imagine a world of PR professionals leading other functions and the good it would deliver to the industry!
There's so much to reflect on. The Great Resignation, induced by the pandemic, is a wakeup call for us. We need a Great PR Talent Rethink. After all, great people build great companies, and we would all stand to benefit from it.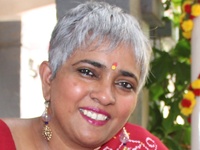 The Author
Melissa Arulappan is Head, Corporate Communications, IQVIA India. She has over three decades of challenging and exciting communication roles in the corporate and consultancy sector in India. Passionate about nurturing and developing talent, Melissa is actively involved in teaching PR and running professional development initiatives. She is a Chevening Scholar and Founder Member of Global Women in PR (GWPR) – India Chapter. Her interests lie in travel, baking and sports.   Mail the author Visit the author's website
mail the author
visit the author's website
Forward, Post, Comment | #IpraITL
We are keen for our
IPRA Thought Leadership essays
to stimulate debate. With that objective in mind,
we encourage readers to participate in and facilitate discussion.
Please forward essay links to your industry contacts, post them to blogs, websites and social networking sites and above all give us your feedback via forums such as IPRA's LinkedIn group. A new ITL essay is published on the IPRA website every week. Prospective ITL essay contributors should send a short synopsis to IPRA head of editorial content Rob Gray
email
Share on Twitter
Share on Facebook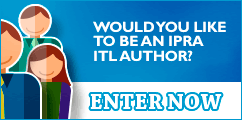 IPRAOfficial