Invitation to Future of News: an FTLive event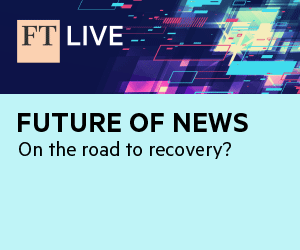 (Comments)
2 years, 6 months ago
You may recall that IPRA gave the President's Award 2020 to FTLive – the global conferences and events division of the Financial Times Group. IPRA has now struck a partnership with FTLive and their next event is The Future of News: on the road to recovery?
The Future of News 10 June 2021
A pandemic, a recession, Brexit and across the Atlantic, a tumultuous farewell to Trump. The last year has contained a decade's worth of news, coloured by our increased reliance on the digital world for connection. In Europe, a shrinking economy is posing further obstacles to the already fragmented print, broadcast and digital industries. A fall in advertising, accelerated by lockdowns, has prompted executives and funders to look more carefully at subscriber-centric models while seeking new digital revenue sources. Regulators, in the meantime, are trying to find fair ways to contain the dominance of large technology companies, which could have an impact on how news is disseminated.
Whose responsibility is it to keep the public accurately informed? What will entice people to pay for news? How can we ensure that bold moves governing free expression now do not have unintended consequences later?
Registration Options
THE EARLY BIRD PROFESSIONAL PASS worth £299 at 50% IPRA discount: at this link
Hurry. Available until 11 May only
Access to live talks
Access to live Q&A and polls
Access to networking and community area
Access to video on demand
THE PROFESSIONAL PASS worth £299 at 20% IPRA discount: at this link
Available right up until 10 June
Access to live talks
Access to live Q&A and polls
Access to networking and community area
Access to video on demand
Contact
International Public Relations Association Secretariat
United Kingdom
Telephone +44 1634 818308
Share on Twitter
Share on Facebook