AMEC Summit 2021: an invitation to IPRA members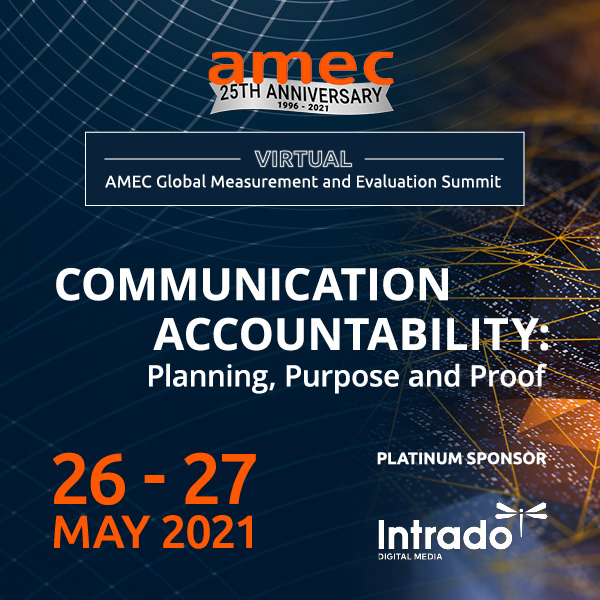 (Comments)
1 year, 10 months ago
I am pleased to extend an invitation to the AMEC Summit 2021 Communication Accountability: planning, purpose and proof which takes place 26 – 27 May 2021. AMEC is the International Association for Measurement and Evaluation of Communication. Register here.
What is the content of this event?
The AMEC Virtual Global Summit on Measurement is a two-day professional development programme, for attendees from around the world. It is an opportunity to be immersed in best practice of communication measurement and evaluation, including research, analysis and actionable insights from a line-up of international speakers. Delegates will explore best practices encompassing communication accountability: planning, purpose and proof.
A virtual delegate pass will include access to the Intrado virtual event platform with live keynotes, opportunities to ask questions and access to on-demand presentations after the Summit, to refresh or catch-up on what was missed so you do not have to devote the whole time at your desk.
Don't forget to register in advance, not with IPRA, but the event organiser here.
Background to IPRA
IPRA, the International Public Relations Association, was established in 1955, and is the leading global network for PR professionals in their personal capacity. IPRA aims to advance trusted communication and the ethical practice of public relations. We do this through networking, our code of conduct and intellectual leadership of the profession. IPRA is the organiser of public relations' annual global competition, the Golden World Awards for Excellence (GWA). IPRA's services enable PR professionals to collaborate and be recognised. Members create content via our Thought Leadership essays, social media and our consultative status with the United Nations. GWA winners demonstrate PR excellence. IPRA welcomes all those who share our aims and who wish to be part of the IPRA worldwide fellowship. For more see www.ipra.org
Background to AMEC
AMEC is the International Association for Measurement and Evaluation of Communication. It is the world's largest media intelligence and insights professional body, representing organisations and practitioners who provide media evaluation and communication research. AMEC has grown from 7 members to nearly 200 in its 25th Anniversary year, representing organisations based in 86+ countries worldwide, and more than 1000 professionals dedicated to measurement and evaluation best practice across the globe. AMEC thinks and operates internationally, forming working groups from different countries to work together on new initiatives, all reinforced by its vibrant chapters in Asia Pacific, Europe, Latin America, and North America. AMEC's pioneering work in the field has included the development of the Barcelona Principles, a set of voluntary guidelines established by the PR industry to measure the efficiency of PR campaigns. For more see https://amecorg.com
Contact
International Public Relations Association Secretariat
United Kingdom
Telephone +44 1634 818308
Share on Twitter
Share on Facebook