Invitation to an IPRA webinar on internal communications: 17 June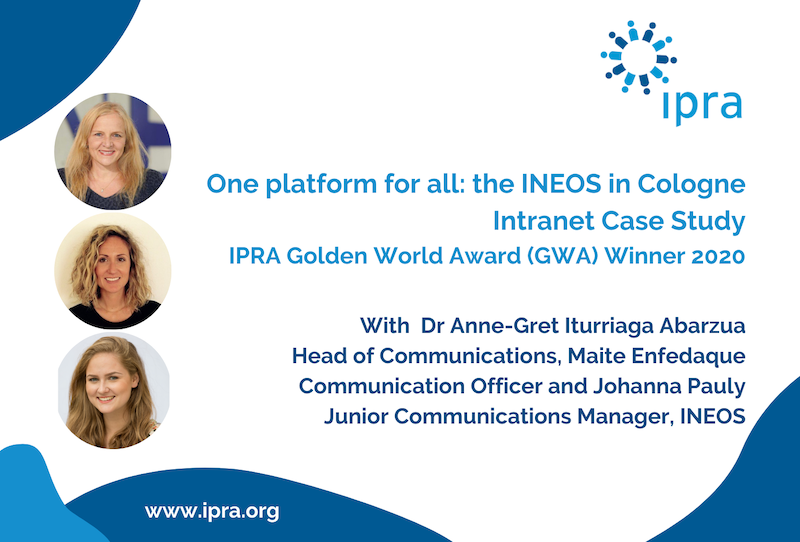 (Comments)
1 year, 10 months ago
I am pleased to invite you to the next in the series of IPRA Thought Leadership webinars. The webinar One platform for all: the INEOS in Cologne intranet case study will be presented by the communications team from INEOS Cologne comprising Dr Anne-Gret Iturriaga Abarzua, Maite Enfedaque and Johanna Pauly on Thursday 17 June 2021 at 12.00 GMT/UCT (13.00 British Summer Time).
What is the webinar content?
Informing and engaging staff internally by enabling them to act as ambassadors in their community is crucial for the sustainable and long-term success of a company. This webinar is about a best practice example, which won the IPRA Golden World Award 2020 in the category Internal Communications, using the out-of-the box technology Office 365 to keep staff up-to-date.
How to join
Register here at Airmeet.
A reminder will be sent 1 hour before the event.
Background to IPRA
IPRA, the International Public Relations Association, was established in 1955, and is the leading global network for PR professionals in their personal capacity. IPRA aims to advance trusted communication and the ethical practice of public relations. We do this through networking, our code of conduct and intellectual leadership of the profession. IPRA is the organiser of public relations' annual global competition, the Golden World Awards for Excellence (GWA). IPRA's services enable PR professionals to collaborate and be recognised. Members create content via our Thought Leadership essays, social media and our consultative status with the United Nations. GWA winners demonstrate PR excellence. IPRA welcomes all those who share our aims and who wish to be part of the IPRA worldwide fellowship. For more see www.ipra.org
Background to the INEOS team
Dr Anne-Gret Iturriaga Abarzua is the Head of Communications for INEOS in Cologne. She is an IPRA board member. Next to her communication and anthropology studies in Vienna, she worked as a freelance journalist for Austrian and German media as well as for PR agencies. As a consultant in a PR agency in Vienna, she helped clients of the plastics and wood industry shaping their reputation. Before arriving to INEOS in Cologne, she was the Communications Manager for EVC (now INOVYN) in Germany.
Maite Enfedaque is the Communications Officer for INEOS in Cologne. With a bachelor's degree in advertising and public relations and a master's degree in strategic management in global communications, she has her work experience in advertising agencies as a producer, where she was responsible for the development and execution of BTL campaigns as well as the organization of events for global consumer brands.
Johanna is Junior Communications Manager for INEOS in Cologne. She holds a bachelor's degree in journalism and corporate communications and is a local graduate at INEOS in their graduate programme for young professionals. She has experience in event management, is responsible for donation and sponsoring activities and organises multi and cross channel communications via intranet and internet, social media and printed media.
Contact
International Public Relations Association Secretariat
United Kingdom
Telephone +44 1634 818308
Share on Twitter
Share on Facebook