IPRA President's Award 2015 goes to Peru's educationalist Johan Leuridan Huys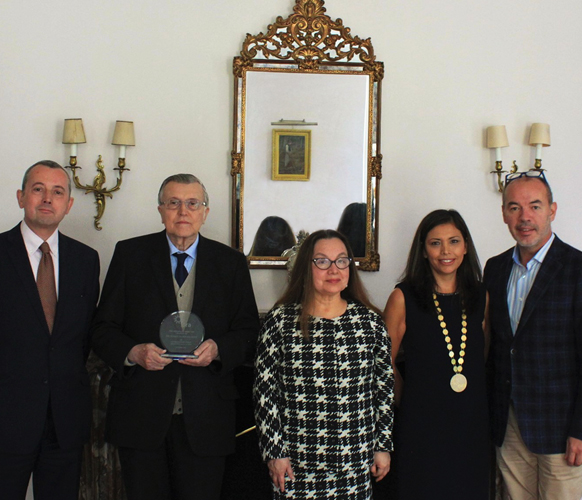 (Comments)
6 years, 9 months ago
In 2012, the IPRA President's award went to the institution the Peruvian Universidad de San Martín de Porres following its excellent hosting of the IPRA World Congress. Today the IPRA President's Award 2015 recognises the career of a symbolic leader of Peruvian education, Dr. Johan Leuridan Huys.
Dr. Huys, dean of the Faculty of Communication Sciences, Tourism and Psychology from Universidad de San Martín de Porres, was granted the IPRA President's Award 2015 last Thursday 9 October at a ceremony in the Peruvian Embassy in Brussels. The award recognises a life devoted to the teaching of communication and public relations to promote the principles of peace, social justice and intercultural understanding.
The annual President's Award is in recognition of prestigious institutions and personalities from around the world. Dr. Leuridan joins a list of prominent international figures, such as Al Gore, politician; J.K. Rowling, writer; Harold Burson, founder of Burson-Marsteller and Muhtar Kent, CEO of Coca Cola.
The IPRA President's Award 2015 was presented by Dr. Amybel Sánchez de Walther, current President of IPRA and first Latin American in the position. Philip Sheppard, Secretary General of IPRA; Christophe Ginisty, member of the board of IPRA; Cristina María del Rosario Ronquillo de Blödorn, Ambassador of Peru in the Kingdom of Belgium; among other members of the diplomatic corps, attended the ceremony.
Share on Twitter
Share on Facebook