IPRA announces World Congress sponsors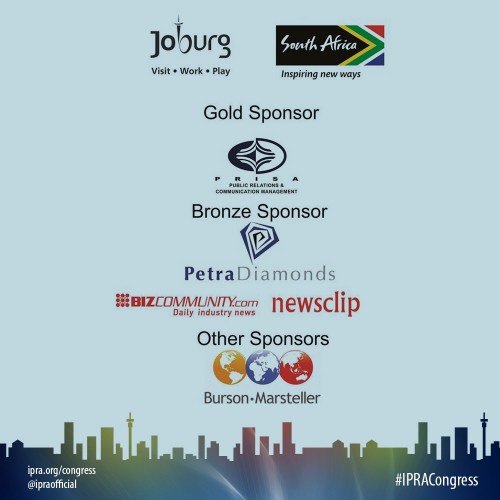 (Comments)
7 years, 4 months ago
The International Public Relations Association (IPRA) have announced the sponsors for the 2015 IPRA World Congress, in partnership with PRISA.
The congress takes place from Sunday, 27 to Tuesday, 29 September at the Sandton Convention Centre in Johannesburg.
These partners have shown remarkable commitment to the continued success of the Association, and for the PR industry through their unwavering support of the 2015 IPRA World Congress – the largest annual gathering of the global Public Relations Industry.
With delegates from more than 30 countries attending the event, the IPRA World Congress is the highlight of the Public Relations global industry annual activities.
The theme for the 2015 conference is 'Leadership in Communication – the way to Trust'.
The sponsors are:
Public Relations Institute of South Africa (PRISA);
Joburg Tourism;
South African National Convention Bureau;
Gauteng Tourism;
Burson Marsteller;
Seswa 3D;
Glasshouse Communication Management;
Petra Diamonds;
Newsclip;
Bizcommunity;
South African Airways;
Ornico;
Erik Foster Photography;
Zoom Photography; and
Books Plus.
We are committed to delivering an inspirational experience and have prepared a programme that provides fitting content and advice to master the challenges encountered daily within the communications industry.
For more information, visit www.ipra.org. Alternatively connect with us on Facebook or on Twitter.
Share on Twitter
Share on Facebook