IPRA 2020 Global Contribution Award for "Soap with Dots" delivered in Vienna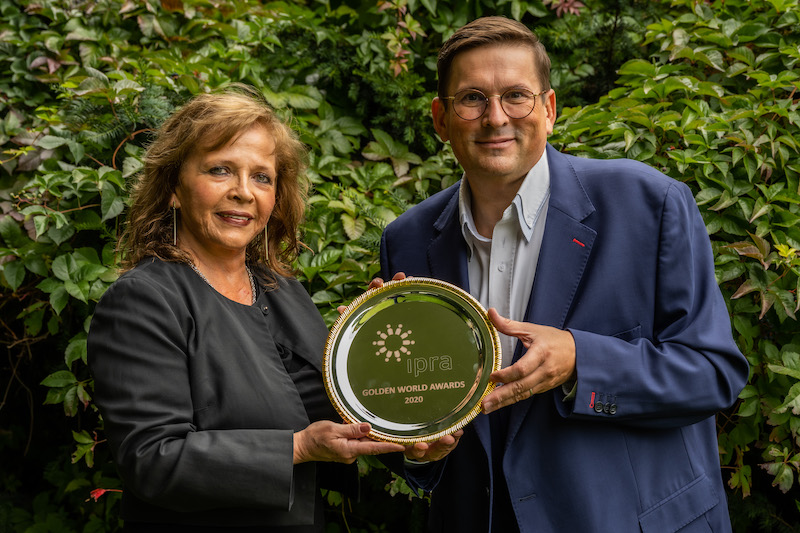 (Comments)
2 years, 2 months ago
Today, 24 September 2021, in a belated ceremony in Vienna, Svetlana Stavreva, the 2020 president and member of the board of IPRA, presented the Global Contribution Award, a special prize within the 2020 Golden World Awards, to the director of the Apriori World agency, Danijel Koletić.
Last year, IPRA declared the pro bono project of the Apriori World agency, "Soaps with Dots", on behalf of the Association of the Blind Zagreb, a global project of the year that is in line with the UN's sustainable development goal 10 to reduce inequality.
In this social entrepreneurship project, blind and partially sighted people produce soaps in Braille, with the aim of promoting social entrepreneurship, but also the work inclusion of people with disabilities in the community. The company has also started producing liquid soaps. The project originally hired two people with disabilities, and now supports four. The plan is to hire more next year.
On the occasion of the award ceremony, Danijel Koletić stated: "I am happy to receive the award in person. This award is binding, motivating, but also inspiring. I believe that if you want, every person on this planet could set aside some time to volunteer. Corporations and certain organizations do this as part of their internal programs, but we still lack greater sensitivity to people with disabilities".
The project "Soaps with dots" aims to share the acquired practical knowledge in creating production with other associations of the blind from the middle of next year in order to open opportunities for self-sustainable development in the employment of people with disabilities.
Background to IPRA
IPRA, the International Public Relations Association, is the leading global network for public relations professionals. Membership is individual not corporate. It aims to further the development of open communication and the ethical practice of public relations. IPRA fulfils this aim through networking opportunities, its code of conduct and intellectual leadership of the profession. IPRA is the organiser of the annual Golden World Awards for excellence – PR's global awards scheme. With 60 years of experience, IPRA, recognised by the United Nations, is now present throughout the world wherever public relations are practised. IPRA welcomes all those within the profession who share its aim and who wish to be part of the IPRA worldwide fellowship. For more information please visit: www.ipra.org
Background to the Golden World Awards for Excellence.
The annual IPRA Golden World Awards (GWA) initiative, established in 1990, recognizes excellence in public relations practice worldwide in a variety of categories. Recipients of the award take particular pride in the recognition granted to their entry as meeting international standards of excellence in public relations. An overall IPRA Grand Prix for Excellence is presented each year to the entry judged as representing the highest standards that year. While there are many national and regional PR awards, there is only one truly global scheme: the GWA.
Contact
International Public Relations Association Secretariat
United Kingdom
Telephone +44 1634 818308
For further information: [email protected]
Share on Twitter
Share on Facebook