Did you enter the GWA? Do you do business in the East? Then send the same entry to the Eventiada IPRA GWA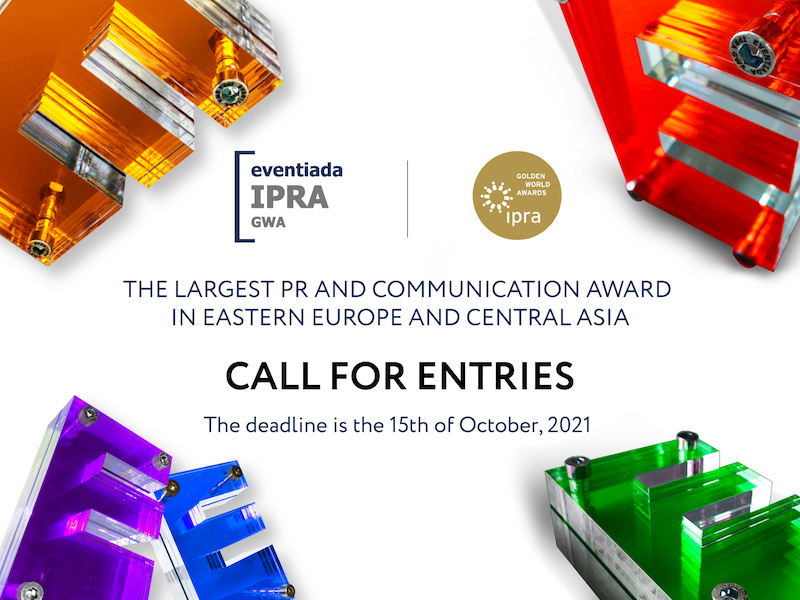 (Comments)
2 years, 2 months ago
Did you make a 2021 GWA Entry that covered one of the markets in Eastern Europe, Russia, CIS or Central Asia? If yes you can enter the same entry again. Our regional partner, Eventiada IPRA GWA, the largest PR & Communications award in Eastern Europe and Central Asia is open for entries. Campaigns must be in the English language and cover 1 September 2020 to 1 September 2021. Why not show to the whole PR world who is the best in the region!
Please submit your entries online at www.eventiada.com where you will also find the full set of rules. The deadline for 2021 entries is 15 October 2021.



---
Background to IPRA
IPRA, the International Public Relations Association, was established in 1955, and is the leading global network for PR professionals in their personal capacity. IPRA aims to advance trusted communication and the ethical practice of public relations. We do this through networking, our code of conduct and intellectual leadership of the profession. IPRA is the organiser of public relations' annual global competition, the Golden World Awards for Excellence (GWA). IPRA's services enable PR professionals to collaborate and be recognised. Members create content via our Thought Leadership essays, social media and our consultative status with the United Nations. GWA winners demonstrate PR excellence. IPRA welcomes all those who share our aims and who wish to be part of the IPRA worldwide fellowship. For more see www.ipra.org
Background to Eventiada IPRA Golden World Awards
Eventiada IPRA Golden World Awards since 2011 celebrates campaigns implemented by global brands and leading local corporations in Eastern European, Central Asian and CIS countries. It's a regional partner of IPRA GWA. In 2020 Eventiada IPRA GWA joined IPRA in supporting the UN Sustainable Development Goals. The programme includes awards for outstanding campaigns supporting these UN goals.
Background to the Golden World Awards for Excellence.
The annual IPRA Golden World Awards (GWA) initiative, established in 1990, recognizes excellence in public relations practice worldwide in a variety of categories. Recipients of the award take particular pride in the recognition granted to their entry as meeting international standards of excellence in public relations. An overall IPRA Grand Prix for Excellence is presented each year to the entry judged as representing the highest standards that year. While there are many national and regional PR awards, there is only one truly global scheme: the GWA.
Contact
International Public Relations Association Secretariat
United Kingdom
Telephone +44 1634 818308
Share on Twitter
Share on Facebook