Invitation to an IPRA webinar on relationship management: 14 October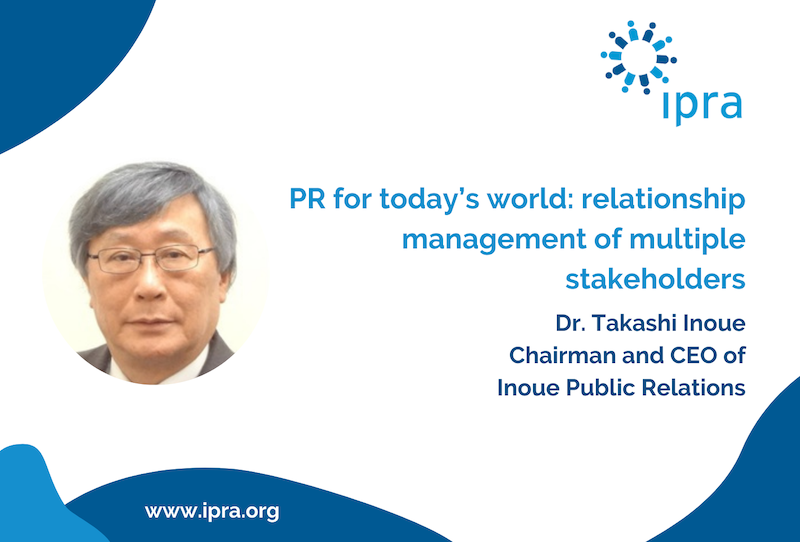 (Comments)
2 years ago
I am pleased to invite you to the next in the series of IPRA Thought Leadership webinars. The webinar PR for today's world: relationship management of multiple stakeholders by Dr Takashi Inoue, Chairman & CEO of Inoue Public Relations, Japan on Thursday 14 October 2021 at 12.00 GMT/UCT (unadjusted).
What is the webinar content?
In an age of hyper-change, PR is about multiple-stakeholder relationship management and requires constant self-correction. The webinar with Dr Takashi Inoue, will explore relationship management and reflect on how this is complex in a world characterized by hyper-globalization. The webinar draws on the presenter's book published in 2018 and the presenter's experience in the Japanese high-tech industries.

The webinar will be followed by an interactive Q&A session.
How to join
Register here at Airmeet.
A reminder will be sent 1 hour before the event.
Background to IPRA
IPRA, the International Public Relations Association, was established in 1955, and is the leading global network for PR professionals in their personal capacity. IPRA aims to advance trusted communication and the ethical practice of public relations. We do this through networking, our code of conduct and intellectual leadership of the profession. IPRA is the organiser of public relations' annual global competition, the Golden World Awards for Excellence (GWA). IPRA's services enable PR professionals to collaborate and be recognised. Members create content via our Thought Leadership essays, social media and our consultative status with the United Nations. GWA winners demonstrate PR excellence. IPRA welcomes all those who share our aims and who wish to be part of the IPRA worldwide fellowship. For more see www.ipra.org
Background to Dr Takashi Inoue
Dr Takashi Inoue is Chairman and CEO of Inoue Public Relations Inc. in Japan. He is a visiting professor at Kyoto University. In 1997 his firm was the first in Asia to win the IPRA Golden World Awards Grand Prix. The company won subsequent Golden World Awards in 2015 (Japan regulatory changes for product innovation) and in 2021 (Corona manual). Dr Inoue is the author of Hyper-Globalization: essential relationship management published in 2018.
Contact
International Public Relations Association Secretariat
United Kingdom
Telephone +44 1634 818308
Share on Twitter
Share on Facebook