Invitation to an IPRA webinar Rising to the challenge: how to protect reputation when crisis strikes: 13 October 2022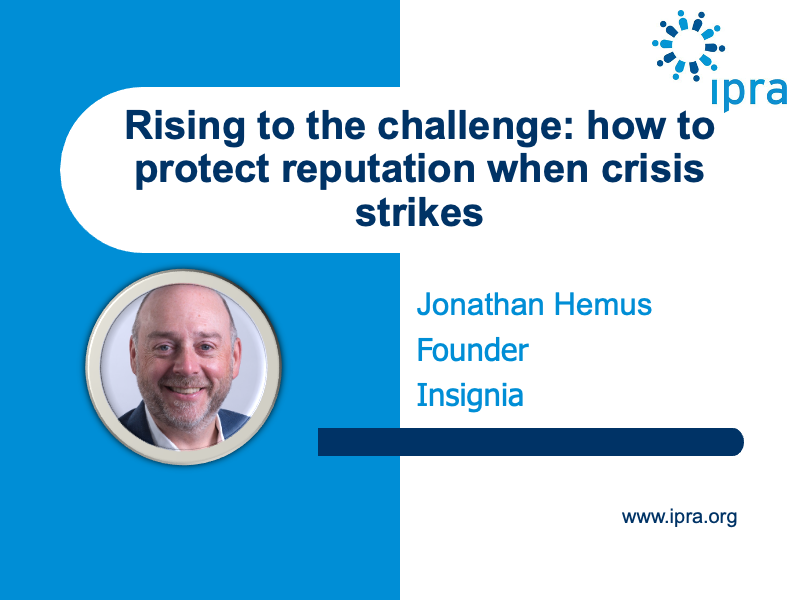 (Comments)
1 year, 2 months ago
I am pleased to invite you to the next in the series of IPRA Thought Leadership webinars. The webinar Rising to the challenge: how to protect reputation when crisis strikes will be presented by Jonathan Hemus on Thursday 13 October 2022 at 12.00 GMT/UCT (unadjusted).
What is the webinar content?
When crisis strikes, an organisation's reputation, value, and the livelihoods of its stakeholders are all in jeopardy. The ability of leaders to do and say the right things at this moment will determine the fate of the organisation and all those affected by it. Given this intense pressure, it's not surprising that some leaders falter. PR professionals can play a major role in helping their senior management colleagues to navigate through a crisis but only if they fully understand the context in which they are working and the pitfalls to avoid. Calling upon twenty-five years' experience in crisis management, Jonathan Hemus will share with attendees: why smart people do irrational things in a crisis; the most common mistakes made by leaders in a crisis; 10 golden rules for crisis management success; and how to become a trusted advisor.
How to join
Register here at Airmeet. (The time shown should adjust to your device's time zone.)
A reminder will be sent 1 hour before the event.
Background to IPRA
IPRA, the International Public Relations Association, was established in 1955, and is the leading global network for PR professionals in their personal capacity. IPRA aims to advance trusted communication and the ethical practice of public relations. We do this through networking, our code of conduct and intellectual leadership of the profession. IPRA is the organiser of public relations' annual global competition, the Golden World Awards for Excellence (GWA). IPRA's services enable PR professionals to collaborate and be recognised. Members create content via our Thought Leadership essays, social media and our consultative status with the United Nations. GWA winners demonstrate PR excellence. IPRA welcomes all those who share our aims and who wish to be part of the IPRA worldwide fellowship. For more see www.ipra.org
Background to Jonathan Hemus
Jonathan is the founder of crisis management consultancy Insignia. He was previously global head of crisis and issues management at Porter Novelli. Jonathan works with business leaders to ensure they have the capability to do the right things under the intense pressure of a crisis. Driven by a passion to prevent the needless harm caused by a mis-handled crisis, he enables his clients to successfully prepare for cyber-attacks, catastrophic accidents, management misdeeds, product contamination or environmental incidents. He is the author of Crisis proof – How to prepare for the worst day of your business life. He is a visiting lecturer at Henley Business School, Manchester Metropolitan University, and the University of Central Florida.
Contact
International Public Relations Association Secretariat
United Kingdom
Telephone +44 1634 818308
Share on Twitter
Share on Facebook