Invitation to an IPRA webinar on social media manipulation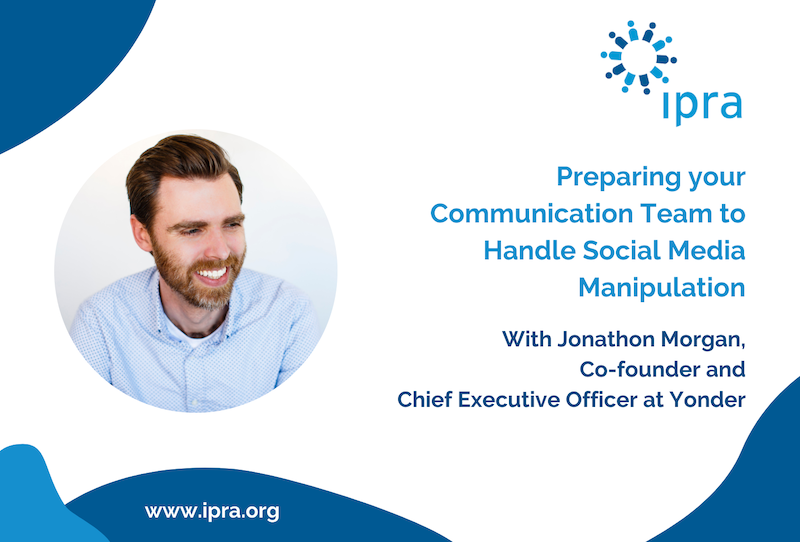 (Comments)
2 years, 6 months ago
I am pleased to invite you to the next in the series of IPRA Thought Leadership webinars. The webinar Preparing your communications team to handle Social Media manipulation will be presented by Jonathon Morgan on Thursday 1 April 2021 at 13.45 GMT/UCT (14.45 British Summer Time). Jonathon is the co-founder and chief executive officer of Yonder.
What is the webinar content?
The webinar will cover the following themes with plenty of time for a Q&A.
Manipulative social media activity is becoming increasingly common, brands are being targeted, and traditional social analytics tools can't answer these questions.
Communications teams are now expected to show up with answers to questions such as: Why is our brand suddenly trending? Why is our spokesperson under fire? Why are we being boycotted? Who's behind it? How did this happen? Why didn't we see it coming? What happens next?
Wayfair had to deny conspiracy theories about child trafficking on its site. Peloton's valuation plunged $942M in one day after an ad went viral. GameStop stocks soared 400% when investors coordinated a short squeeze via Reddit.
We'll look at how modern comms teams are using social intelligence so they don't get surprised by social media manipulation, and can make strategic decisions that mitigate risk and keep your team in control of the brand's story.
How to join
Register here at Airmeet.
A reminder will be sent 1 hour before the event.
Background to IPRA
IPRA, the International Public Relations Association, was established in 1955, and is the leading global network for PR professionals in their personal capacity. IPRA aims to advance trusted communication and the ethical practice of public relations. We do this through networking, our code of conduct and intellectual leadership of the profession. IPRA is the organiser of public relations' annual global competition, the Golden World Awards for Excellence (GWA). IPRA's services enable PR professionals to collaborate and be recognised. Members create content via our Thought Leadership essays, social media and our consultative status with the United Nations. GWA winners demonstrate PR excellence. IPRA welcomes all those who share our aims and who wish to be part of the IPRA worldwide fellowship. For more see www.ipra.org
Background to Jonathon
Jonathon Morgan is co-founder and chief executive officer at Yonder. Yonder is a Social Intelligence platform that uses machine learning to analyze how narratives spread across fringe and mainstream social platforms and influence public opinion. Prior to Yonder, he published research about extremist groups manipulating social media with the Brookings Institution, The Atlantic, and the Washington Post, and presented findings at NATO's Center of Excellence for Defense Against Terrorism, the United States Institute for Peace, and the African Union. Jonathon previously served as an adviser to the US State Department, developing strategies for digital counter-terrorism. For more see https://www.yonder-ai.com
Contact
International Public Relations Association Secretariat
United Kingdom
Telephone +44 1634 818308
Share on Twitter
Share on Facebook