Communication saves lives: Communication experts call for ethical and effective communication to handle the covid-19 pandemic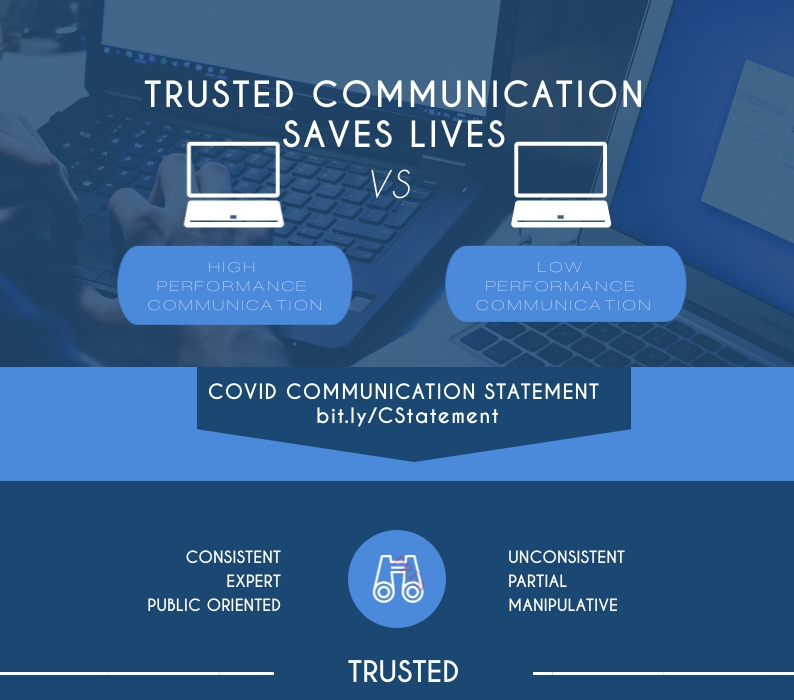 (Comments)
2 years, 5 months ago
The International Public Relations Association (IPRA), along with 12 other globally focused associations of public relations, has launched a joint statement on the communication of the covid-19 pandemic calling for ethical and effective communication.
Reasons for the statement
More than a year since the World Health Organization first declared the covid-19 outbreak a public health emergency, numerous problems emerged concerning the coordination of communication across institutions about the virus, protective measures, correct responses and vaccination. Despite warnings from the scientific community and lessons from previous emergencies, governments and authorities have shown a limited capacity to respond effectively to the pandemic. Recent research from the com-covid network, a global series of projects organized by the European Public Relations Education and Research Association (EUPRERA), have revealed evidence of poor communication management along with low trust in sources of information.
Philippe Borremans, IPRA president adds: "Having worked on the ground with emergency teams as a risk communication consultant in Asia and Africa I have seen how transparent and clear communication can save lives. We need to take this pandemic as an opportunity to build bridges between health stakeholders, government and our communities. We need to combine our experience in both crisis and risk communication to support an inclusive and ethical communication effort on a global scale. Publics are not that general, so messages should be localised taking into account the diversity of social and cultural backgrounds. Public relations professionals worldwide are here to help and ready with such messages."
Ángeles Moreno, president of EUPRERA the organisation which inspired this joint effort comments: "We know that ethical professional communication can save lives. Excellent practitioners are key to managing a pandemic as they can facilitate and maintain relations and mutual understanding between institutions and the public".
What needs to happen
A capacity to relay correct information quickly and clearly across different media is essential to manage a pandemic. In contrast, unclear information will multiply the opportunities for miscommunication; and dishonest information leads to fake news and conspiracy theories which undermines trust. The combination of unclear and dishonest information causes behaviours that compromise the abilities of societies to control the virus. With this statement, these 13 associations of public relations seek to identify communication mistakes and thus help societies to control the virus.
Background information


The full statement is available at bit.ly/CStatement
The statement is supported by:
European Public Relations Education and Research Association, Ángeles Moreno, president
European Association of Communication Directors, Kim Larsen, president
European Communication Research and Education Association, Isabel Ruiz-Mora, OSC chair
Federazione Relazioni Pubbliche Italiana. Rosella Sobrero, president
Global Alliance for Public Relations and Communication Management, Justin Green, president
International Communication Association public relations division. Flora Hung-Baesecke, chair
Institute for Public Relations, Tina McCorkindale, president
Interdecom UNESCO 2021 declaration, Solange Tremblay, leading author
International Public Relations Association, Philippe Borremans, president
The Nordic Alliance for Communication and Management, Alexander Buhmann, director
The Museum of Public Relations, Shelley Spector, president
Women in PR North America, Talia Beckett Davis, president
BledCom International Public Relations Research Symposium, Dejan Verčič, co-founder.
About IPRA
IPRA, the International Public Relations Association, was established in 1955, and is the leading global network for PR professionals in their personal capacity. IPRA aims to advance trusted communication and the ethical practice of public relations. We do this through networking, our code of conduct and intellectual leadership of the profession. IPRA is the organiser of public relations' annual global competition, the Golden World Awards for Excellence (GWA). IPRA's services enable PR professionals to collaborate and be recognised. Members create content via our Thought Leadership essays, social media and our consultative status with the United Nations. GWA winners demonstrate PR excellence. IPRA welcomes all those who share our aims and who wish to be part of the IPRA worldwide fellowship. For more see www.ipra.org
Contact
International Public Relations Association
Philip Sheppard, secretary general
Telephone +44 1634 818308
EUPRERA
Virginia Villa, director of public relations and administration
Telephone +393482457646
Share on Twitter
Share on Facebook