Invitation to an IPRA webinar on Artificial Intelligence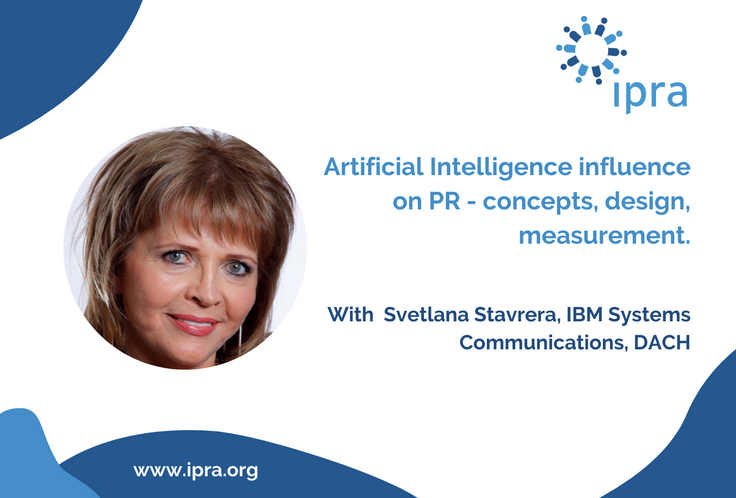 (Comments)
2 years, 5 months ago
I am pleased to invite you to the next in the series of IPRA Thought Leadership webinars. The webinar Artificial Intelligence influence on PR: concepts, design, measurement will be presented by Svetlana Stavreva on Thursday 15 April 2021 at 13.00 GMT/UCT (14.00 British Summer Time). Svetlana is a Public Relation and Communication Professional at IBM.
What is the webinar content?
We live in extraordinary times. The globally connected world is transforming digitally. The number of all connected devices worldwide – that interact with each other and create data - is expected to reach 10 times the world's population or 75 billion by 2025. According to IDC, by 2025 worldwide data will grow 61% to reach 175 zettabytes.
In the cognitive era data that was previously invisible to systems can be captured and analysed to generate new insights. Today machine learning based algorithms and cognition make its way into cars, buildings, processes, space and supply chains. This is a chance for us to create new markets, transform industries, build new business models, and fulfil our dreams. PR & Communication industry is part of this digital transformation.
As a result, today our profession is being challenged by brands, enterprises and societies and new realities call for new standards for professional PR & Communication. This webinar will explore how AI impacts PR & Communication practice and how we can leverage AI to put programs that are based on purpose, trust and ethics. This approach elevates the standards of our profession and puts PR in the heart of organization's business strategies for sustainable development.
How to join
Register here at Airmeet.
A reminder will be sent 1 hour before the event.
Background to IPRA
IPRA, the International Public Relations Association, was established in 1955, and is the leading global network for PR professionals in their personal capacity. IPRA aims to advance trusted communication and the ethical practice of public relations. We do this through networking, our code of conduct and intellectual leadership of the profession. IPRA is the organiser of public relations' annual global competition, the Golden World Awards for Excellence (GWA). IPRA's services enable PR professionals to collaborate and be recognised. Members create content via our Thought Leadership essays, social media and our consultative status with the United Nations. GWA winners demonstrate PR excellence. IPRA welcomes all those who share our aims and who wish to be part of the IPRA worldwide fellowship. For more see www.ipra.org
Background to Svetlana
Svetlana is a Public Relation and Communication Professional at IBM and an IPRA Board member. Member of Forbes Communications Council. IPRA President 2019-2020. Experienced business builder and relationship manager with demonstrated success in journalism, public relations, corporate diplomacy and digital marketing initiatives. Demonstrated ability to lead teams and execute mission-critical initiatives. Hands on experience in working cross-disciplines globally for all IBM world regions, except North America.

Contact
International Public Relations Association Secretariat
United Kingdom
[email protected]
Telephone +44 1634 818308
Share on Twitter
Share on Facebook