Invitation to The Global Boardroom: an FTLive event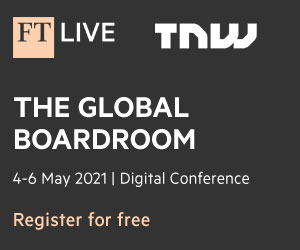 (Comments)
2 years, 5 months ago
You may recall that IPRA gave the President's Award 2020 to FTLive – the global conferences and events division of the Financial Times Group. IPRA has now struck a partnership with FTLive for their next two events. The first event is The Global Boardroom.

The Global Boardroom May 4 - 6 May: Strategies for a world transformed by crisis
The Global Boardroom returns for its third edition to discuss the practical steps governments, business and finance can take to build a resilient, sustainable recovery, more than a year into a crisis that has crippled the global economy and fundamentally changed the way we live, work and communicate.
As covid-19 continues to spread;
How effective will the vaccination programmes be and to what extent have they brought forward the timing of a recovery?
What impact will the new US administration have on domestic and global affairs?
What should businesses do to assure future growth and competitiveness?
Join the FT's top journalists in a series of live online conversations with leading policy makers, CEOs and investors (across three days and multiple time zones from Asia through to Europe, Africa, the Middle East and the Americas) to debate and design the most effective post-pandemic strategies.

Registration Options
THE INSPIRATION PASS: free to register at this link
Live access to all talks
Access to Q&A and polls
THE PROFESSIONAL PASS: usually $149 but with a 10% IPRA discount at this link
Live access to all talks
Access to Q&A and polls
90 days on demand access to all talks after the event
End of Day summary reports
Access to 1-1 networking
Access to business community area
A 3-month digital subscription to the Financial Times, worth £150.
Contact
International Public Relations Association Secretariat
United Kingdom
[email protected]
Telephone +44 1634 818308
Share on Twitter
Share on Facebook