ZEIT ONLINE Receives IPRA President's Award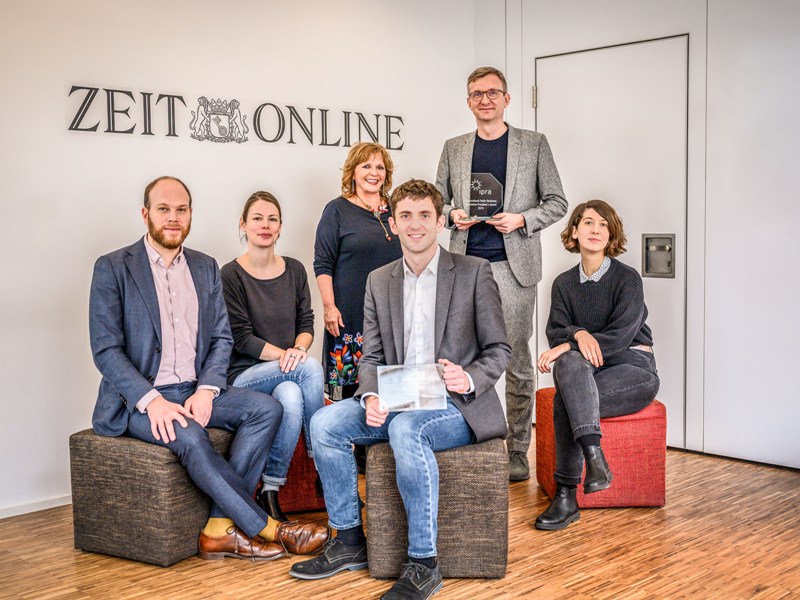 (Comments)
3 years, 7 months ago
The German online news magazine ZEIT ONLINE has received the IPRA President's Award for 2019. The award was bestowed on the website for its establishment of the face-to-face debate platform My Country Talks.
"The platform brings together people with opposite views, fostering dialogue," said Svetlana Stavreva, IPRA's President. "The initiative is a clear example of how intelligent communications provoke actions that lead to a better world understanding."
The initiative began in 2017 as a project called Germany Talks. Thousands of Germans signed up to take part in the event, and they were then matched up with someone holding divergent views for a personal, one-on-one discussion. After the first edition of Germany Talks, ZEIT ONLINE joined forces with media organizations from around the world to launch the My Country Talks platform, which developed internationally into more than a dozen events such as Italy Talks, Canada Talks and a pan-European Europe Talks. Thus far, more than 150,000 people in more than 30 countries have registered to meet up with a stranger who holds divergent opinions. As part of the Europe Talks event last spring, more than 17,000 Europeans from 33 countries signed up to argue with a counterpart. Thousands of them crossed international borders to meet up for a political discussion.
"We are honoured to receive the IPRA President's Award," said Editor-in-Chief Jochen Wegner, "as a recognition that our initiative, which started as a small experiment, has inspired so many people to take part in political dialogue at a time when significant parts of our societies have forgotten how to talk and listen to each other. Today, My Country Talks is a tool that media organizations around the world can use to start one-on-one discussions in their country."
The IPRA President's Award was founded in 1977 and is presented annually to an organization or individual to recognize an "outstanding contribution to better world understanding". Previous recipients of the award include The International Red Cross, The Nobel Foundation, Unesco, Amnesty International, Transparency International, WWF, The Economist and The National Geographic Society.
Caption: Philip Faigle, Lea Bayer, Sebastian Horn, Jochen Wegner and Magdalena Beyer receiving the IPRA President's Award for ZEIT ONLINE
---
Background to IPRA
IPRA, the International Public Relations Association, is the leading global network for Public Relations professionals. Membership is individual not corporate. It aims to further the development of open communication and the ethical practice of public relations. IPRA fulfils this aim through networking opportunities, its code of conduct and intellectual leadership of the profession. IPRA is the organiser of the annual Golden World Awards for excellence – PR's global awards scheme. With 60 years of experience, IPRA, recognised by the United Nations, is now present throughout the world wherever public relations are practised. IPRA welcomes all those within the profession who share its aim and who wish to be part of the IPRA worldwide fellowship. For more information please visit: www.ipra.org
Background to ZEIT ONLINE
ZEIT ONLINE is a leading German premium news site with more than 14 million unique users per month. It is the online edition of DIE ZEIT, Germany's most widely read weekly newspaper: www.zeit.de
Contact IPRA
International Public Relations Association Secretariat
United Kingdom
Telephone +44 1634 818308
Contact ZEIT ONLINE
Office of the Editor-in-Chief, Berlin
Lea Bayer
Telephone +49 30 322950151
Share on Twitter
Share on Facebook