United behind the International Declaration for a healthier world, global communication groups seek a new wave of solidarity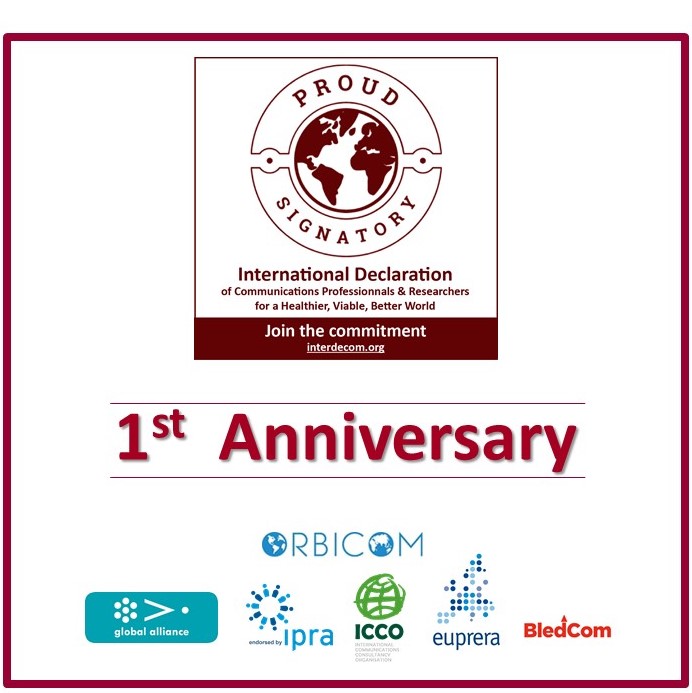 (Comments)
1 year, 9 months ago
After one year of a UNESCO-inspired global mobilization bringing together a worldwide community of communicators, the International Declaration of Communications Professionals and Researchers for a Healthier, Viable, Better World (Interdecom) calls for the continued expansion of solidarity. With major international partners, Interdecom is now launching a second wave of commitment inviting communication groups across the globe to use their expertise to address the biggest threats of our time: the pandemic and the climate crisis. This announcement is made by Interdecom, the organisation behind the Declaration, Orbicom, the international network of UNESCO chairs in communication, and five major international partners: IPRA, Global Alliance, EUPRERA, ICCO and BLEDCOM.
"Orbicom is proud to be closely associated with this ongoing mobilization of communications specialists and academics. In the face of multiplying global crises, all our synergies and solidarity are needed to help in building a healthier world," declared Oumar Kane, Orbicom Secretary General.
A worldwide mobilization
Since January 2021, over 130 organisations, both professional and scientific, from over 40 countries in both hemispheres, have endorsed the Declaration, rallying the importance of unity in communication to tackle the global crises attacking our world. Among them: 15 major international and global communication societies, over 25 national and regional associations, chairs in communication, consulting agencies, research groups, institutions, specialized networks, information platforms, and observatories. The Declaration is a one-voice commitment at a time of major global upheavals and vulnerabilities affecting communication capacities.
Quotes from the presidents
This global mobilization was inspired by the leadership of five major international organisations. "Alongside Orbicom – the international network of UNESCO chairs in communication, our official sponsor, their active involvement since the very first months of this far-reaching mobilization has had a vibrant and direct role on the continuous growth of the Declaration at the global scale," stressed Solange Tremblay, Interdecom President.
Etsuko Tsugihara, IPRA President: "One year on, we are proud to have supported this declaration. Public relations professionals have a clear responsibility to commit to transparent communication and support a better post-pandemic world. Communicators are by nature bridge builders, door openers and enablers of mutual understanding. That's why we are embracing these commitments and salute the success of this initiative of the international team behind the Declaration and the immediate support of our UNESCO colleagues."
Justin Green, Global Alliance President & CEO: "It is essential to unite the global public relations and communications community when taking an active role in leading public information campaigns, helping people understand and share knowledge on the major global risks of our time, such as the pandemic and the climate crisis. Together, we can build a new global community of respect, truth, knowledge, peace, inclusiveness, and justice for all. For this every reason, is why Global Alliance and I as President fully support this Declaration."
Stefania Romenti, EUPRERA President: "Current challenges, from pandemic to climate change, require a new and strong awareness of the role of communication. Of a clear, competent, truthful communication. EUPRERA will continue to strongly support the Declaration, because it is in line with our mission to educate to quality communication with solid scientific foundations."
Nitin Mantri, ICCO President: "As our fragile world is fighting the ongoing pandemic and the continuous assault of the climate crisis; accurate, fact-based, trustworthy and inclusive communications need to be advocated on a daily basis in all parts of the world. In these unprecedented times, a strong, unified voice, echoing ethical and humanist values, must mobilize and strengthen our communication forces throughout the globe. ICCO is proud to embrace this one voice Declaration."
Dr. Dejan Verčič, BledCom co-founder: "Trustworthy, ethical, inclusive, and respectful communication is a critical daily issue in our hypercomplex world that faces the major global threats of our time: climate change, pandemics, migrations, as well as infodemics and misinformation. Scholars, teachers, and practitioners in communication have a shared responsibility to address them in a unified way and the Declaration articulates our commitment. BledCom fully supports this major call for unity."
How to take part
Professional and scientific communication groups are invited to rally this worldwide mobilization by endorsing the Declaration on the online form.
Background to IPRA
IPRA, the International Public Relations Association, was established in 1955, and is the leading global network for PR professionals in their personal capacity. IPRA aims to advance trusted communication and the ethical practice of public relations. We do this through networking, our code of conduct and intellectual leadership of the profession. IPRA is the organiser of public relations' annual global competition, the Golden World Awards for Excellence (GWA). IPRA's services enable PR professionals to collaborate and be recognised. Members create content via our Thought Leadership essays, social media and our consultative status with the United Nations. GWA winners demonstrate PR excellence. IPRA welcomes all those who share our aims and who wish to be part of the IPRA worldwide fellowship. For more see www.ipra.org
Background to UNESCO, Orbicom and Interdecom
UNESCO is the United Nations Educational, Scientific and Cultural Organization. It seeks to build peace through international cooperation in education, the sciences and culture. UNESCO's programmes contribute to the achievement of the UN Sustainable Development Goals.
Orbicom is an international network of UNESCO chairs in communication. This network links communication leaders from academic, media, corporate and government circles with a view to providing an exchange of information, and the development of shared projects.
Interdecom, the International Declaration of Communications Professionals and Researchers for a Healthier, Viable, Better World, brings together communications groups from around the world who want to play a positive and unified role in response to the biggest threats of our time: the pandemic crisis and the relentless emergencies caused by climate change throughout the globe. For more see UNESCO, Orbicom and Interdecom.
Contact
International Public Relations Association Secretariat
United Kingdom
Telephone +44 1634 818308
Share on Twitter
Share on Facebook