IPRA honours provocative women's rights group FEMEN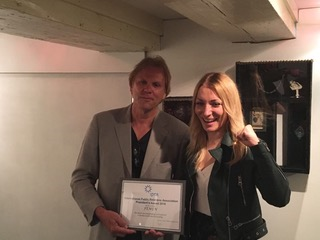 (Comments)
5 years, 10 months ago
At a ceremony in Amsterdam on 23 May in the art gallery of Bayu Food, Dutch PR representatives bore witness to the IPRA President's Award being given to Inna Shevchenko on behalf of her organisation FEMEN.
For a number of years, the female activists of FEMEN have harnessed the power of their bodies as the literal vehicle of their drive to overthrow patriarchy. The female body, says FEMEN, is both the means of women's suppression and the vessel to their equality. And so, FEMEN's activists worldwide have staged topless protests, painting their bodies with slogans, and disrupting the prevailing order.
In presenting the award Bart de Vries, IPRA President said: "Inna Shevchenko and the women activists of FEMEN in nine countries around the world have demonstrated strong endurance and courageous communication skills to put the issues of sexism, the trafficking of women and freedom of speech on the agenda."
In reply, Inna Shevchenko affirmed: "FEMEN is proud to be recognised by IPRA's professional communication community for our activism and efforts to make women heard and not just seen."
The IPRA President's Award is given to a person or organisation for having made an outstanding contribution to better world understanding. "The sophistication and brazenness of FEMEN's communication power makes it a required addition to the list of previous recipients of the President's Award," said De Vries.
Background to IPRA
IPRA, the International Public Relations Association, is the leading global network for Public Relations professionals. Membership is individual not corporate. It aims to further the development of open communication and the ethical practice of public relations. IPRA fulfils this aim through networking opportunities, its code of conduct and intellectual leadership of the profession. IPRA is the organiser of the annual Golden World Awards for excellence – PR's global awards scheme. With 60 years of experience, IPRA, recognised by the United Nations, is now present throughout the world wherever public relations are practised. IPRA welcomes all those within the profession who share its aim and who wish to be part of the IPRA worldwide fellowship. For more information please visit: www.ipra.org
Contact
International Public Relations Association Secretariat
United Kingdom
Telephone +44 1634 818308
Share on Twitter
Share on Facebook