Invitation to an IPRA webinar on reputation management: 9 December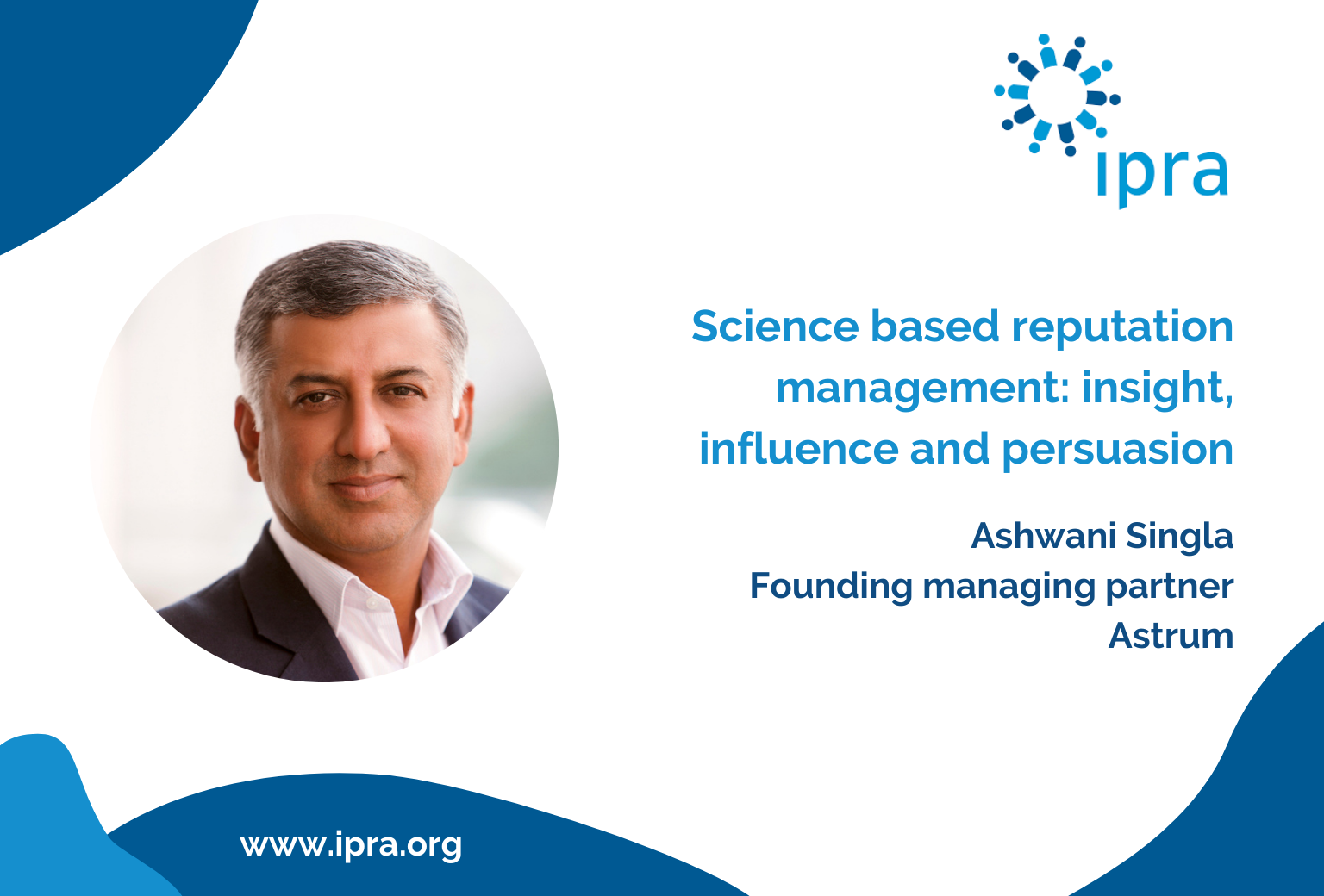 (Comments)
2 years ago
I am pleased to invite you to the next in the series of IPRA Thought Leadership webinars. The webinar Science based reputation management: insight, influence and persuasion will be presented by Ashwani Singla, founding managing partner at Astrum, India on Thursday 9 December 2021 at 12.00 GMT/UCT (unadjusted).
What is the webinar content?
The webinar will explore science-based reputation management considering aspects of insight, influence and persuasion. Drawing on examples from Asia we will consider the five aspects of reputation management which are:
Discover and define the persuadables
Discover and define the drivers of opinion
Define and develop sources of influence and information
Define and develop your Big Picture Story
Deliver your communication by being holistic yet focused.
The webinar will be followed by an interactive Q&A session.
How to join
Register here at Airmeet.
A reminder will be sent 1 hour before the event.
Background to IPRA
IPRA, the International Public Relations Association, was established in 1955, and is the leading global network for PR professionals in their personal capacity. IPRA aims to advance trusted communication and the ethical practice of public relations. We do this through networking, our code of conduct and intellectual leadership of the profession. IPRA is the organiser of public relations' annual global competition, the Golden World Awards for Excellence (GWA). IPRA's services enable PR professionals to collaborate and be recognised. Members create content via our Thought Leadership essays, social media and our consultative status with the United Nations. GWA winners demonstrate PR excellence. IPRA welcomes all those who share our aims and who wish to be part of the IPRA worldwide fellowship. For more see www.ipra.org
Background to Ashwani Singla
Ashwani Singla is the founding managing partner of Astrum, India's first specialist reputation management advisory that uses science to understand and shape public opinion. In his two decades of experience, he has been a trusted advisor and strategist for both c-suite executives and political leaders. He has advised Indian and multinational corporations across a range of sectors. He has been an election campaign strategist and pollster for national and regional political parties and has been involved in election campaigns for close to a decade, including the defining 2014 campaign of India's BJP. Prior to founding Astrum, Ashwani was the CEO of Genesis Burson-Marsteller and Asia MD of Penn Schoen Berland. He is also the founder executive director of Impact Research & Measurement.
Contact
International Public Relations Association Secretariat
United Kingdom
Telephone +44 1634 818308
Share on Twitter
Share on Facebook