Invitation to an IPRA webinar on public affairs: 8 July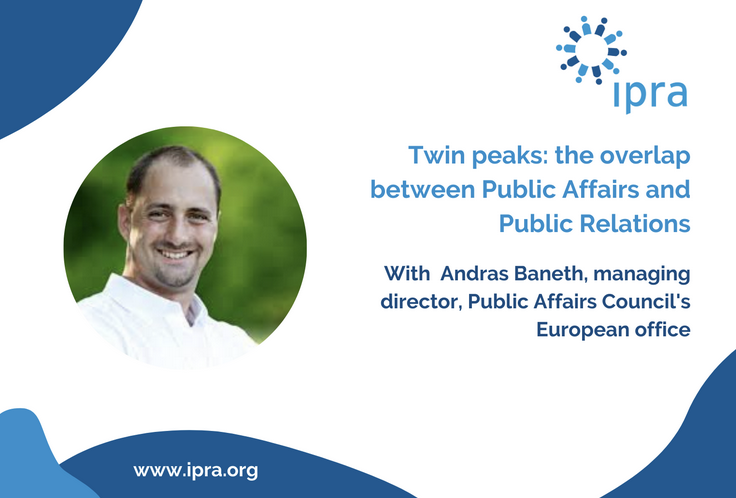 (Comments)
2 years, 5 months ago
I am pleased to invite you to the next in the series of IPRA Thought Leadership webinars. The webinar Twin peaks: the overlap between public affairs and public relations will be presented by Andras Baneth, managing director of the European Office of the US-based Public Affairs Council, on Thursday 8 July 2021 at 12.00 GMT/UCT (13.00 British Summer Time).
What is the webinar content?
The webinar will cover the following topics:
How an issue moves from scattered noise to a public affairs challenge.
Where is the commonality between Uber, AirBnb, pandemic preparedness and self-driving cars?
Messaging for influence: why you should frame it early.
Measuring the impact of your public relations and public affairs work: a way to make it possible.
The webinar will be followed by an interactive Q&A session.
How to join
Register here at Airmeet.
A reminder will be sent 1 hour before the event.
Background to IPRA
IPRA, the International Public Relations Association, was established in 1955, and is the leading global network for PR professionals in their personal capacity. IPRA aims to advance trusted communication and the ethical practice of public relations. We do this through networking, our code of conduct and intellectual leadership of the profession. IPRA is the organiser of public relations' annual global competition, the Golden World Awards for Excellence (GWA). IPRA's services enable PR professionals to collaborate and be recognised. Members create content via our Thought Leadership essays, social media and our consultative status with the United Nations. GWA winners demonstrate PR excellence. IPRA welcomes all those who share our aims and who wish to be part of the IPRA worldwide fellowship. For more see www.ipra.org
Background to the Andras Baneth
Andras is the managing director of the European Office of the Public Affairs Council, the largest global non-profit association for public affairs executives. He is an entrepreneur and executive trainer, focusing on strategic communications and public affairs. He created EUtraining.eu, Europe's leading training company for those wishing to become a European Union civil servant. He is also the founder of SpeakerHub.com, a platform to connect event planners with public speakers. For more see https://pac.org
Contact
International Public Relations Association Secretariat
United Kingdom
[email protected]
Telephone +44 1634 818308
Share on Twitter
Share on Facebook