Invitation to an IPRA webinar on EU opportunities: 13 January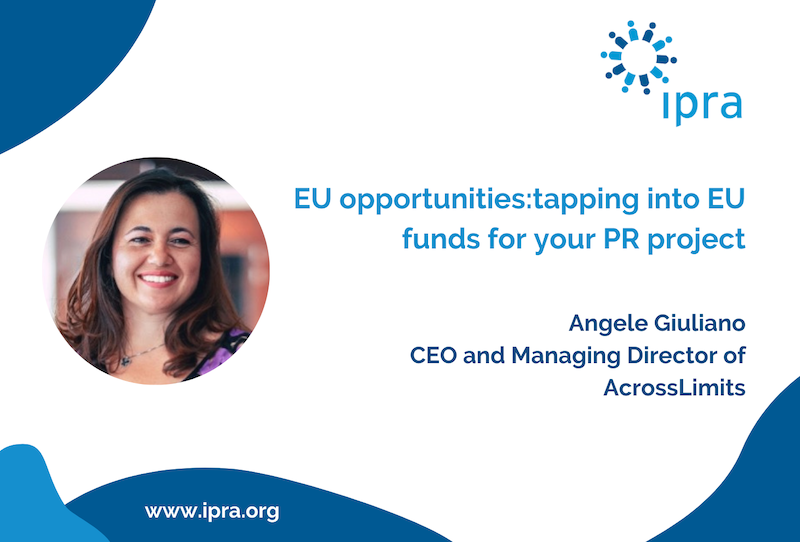 (Comments)
1 year, 11 months ago
I am pleased to invite you to the next in the series of IPRA Thought Leadership webinars. The webinar EU opportunities: tapping into EU funds for your PR project will be presented by Jacqueline Purcell in conversation with Angele Giuliano on Thursday 13 January 2022 at 12.00 GMT/UCT (unadjusted).
What is the webinar content?
The webinar will adopt an interview format with Jacqueline Purcell drawing out information from EU specialist Angele Giuliano. We will learn about the approaches needed to qualify for EU funds, the multi-country approach required, as well as learning from successful case studies for EU funded grants and tenders. Many EU funded PR projects are relevant to countries outside of EU member states.
How to join
Register here at Airmeet. (The time shown should adjust to your device's time zone.)
A reminder will be sent 1 hour before the event.
Background to IPRA
IPRA, the International Public Relations Association, was established in 1955, and is the leading global network for PR professionals in their personal capacity. IPRA aims to advance trusted communication and the ethical practice of public relations. We do this through networking, our code of conduct and intellectual leadership of the profession. IPRA is the organiser of public relations' annual global competition, the Golden World Awards for Excellence (GWA). IPRA's services enable PR professionals to collaborate and be recognised. Members create content via our Thought Leadership essays, social media and our consultative status with the United Nations. GWA winners demonstrate PR excellence. IPRA welcomes all those who share our aims and who wish to be part of the IPRA worldwide fellowship. For more see www.ipra.org
Background to Angele Giuliano
Angele Giuliano is CEO and managing director of AcrossLimits, a company that empowers pre-qualified public and private organisations to engage with the EU. Her expertise is on making the best use of European opportunities for business growth. She was appointed a member of the advisory board of the EU Horizon2020 programme and is also an Innovation Champion of the European Innovation Council.
Background to Jacqueline Purcell
Jacqueline Purcell serves on the IPRA board, is the UK and Ireland chapter chair and an IPRA GWA judge. A published author, she is a fellow of the UK's Higher Education Academy, and an accredited international business consultant and trainer. Purcell is CEO and co-founder of Jasper Alliance London, a company that positions organisations to maximise international opportunities and funding of worthy projects.
Contact
International Public Relations Association Secretariat
United Kingdom
Telephone +44 1634 818308
Share on Twitter
Share on Facebook