Invitation to an IPRA webinar on reputation management: 10 February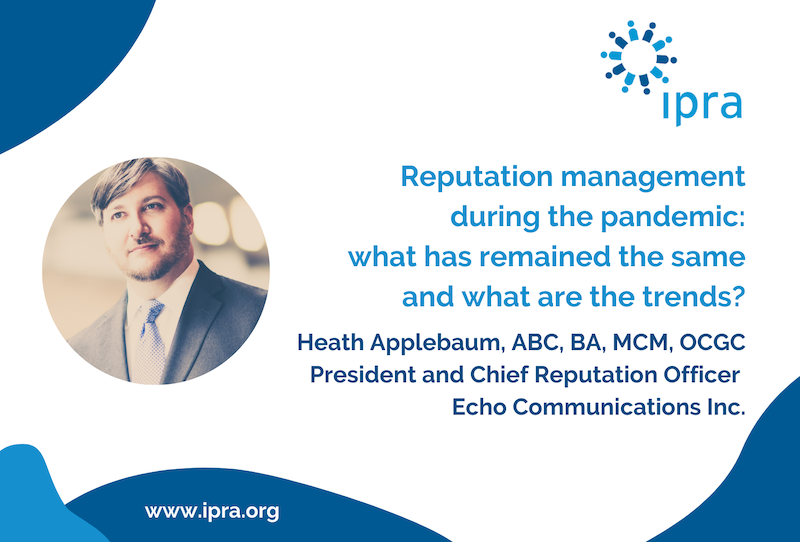 (Comments)
1 year, 10 months ago
I am pleased to invite you to the next in the series of IPRA Thought Leadership webinars. The webinar Reputation management during the pandemic: the status quo and the trends will be presented by Professor Heath Applebaum on Thursday 10 February 2022 at 12.00 GMT/UCT (unadjusted).
What is the webinar content?
Since the global pandemic struck, organizations of all sizes have been under increasing scrutiny by a broad range of empowered and vocal stakeholders, from consumers, investors, suppliers, employees, governments and media. Reputations have never been more valuable and vulnerable.
International-award-winning reputation expert, Heath Applebaum will share the latest global reputation research findings and actionable advice drawn from his 20 years of corporate, agency, non-profit and consulting work. This will be a fascinating conversation that will reference case study examples that we can all learn from.
Participants will gain key insights into:
What new trends have emerged since the onset of covid-19 that communications professionals must adapt and respond to in 2022.
What reputation management issues continue to be crucial.
Tips for effectively prioritizing and aligning your organisation's or client's actions and words during these precarious times.
How to join
Register here at Airmeet. (The time shown should adjust to your device's time zone.)
A reminder will be sent 1 hour before the event.
Background to IPRA
IPRA, the International Public Relations Association, was established in 1955, and is the leading global network for PR professionals in their personal capacity. IPRA aims to advance trusted communication and the ethical practice of public relations. We do this through networking, our code of conduct and intellectual leadership of the profession. IPRA is the organiser of public relations' annual global competition, the Golden World Awards for Excellence (GWA). IPRA's services enable PR professionals to collaborate and be recognised. Members create content via our Thought Leadership essays, social media and our consultative status with the United Nations. GWA winners demonstrate PR excellence. IPRA welcomes all those who share our aims and who wish to be part of the IPRA worldwide fellowship. For more see www.ipra.org
Background to Heath Appelbaum
Heath Applebaum is a reputation management consultant, university professor and business strategist. He is the President of Echo Communications Inc., a reputation management consulting firm founded in 2000. In 2021, Heath was as recognized as the Educator of The Year by the Canadian Public Relations Society. Heath holds a MA in communications management, from McMaster University, and a BA in political science from Wilfrid Laurier University.
Contact
International Public Relations Association Secretariat
United Kingdom
Telephone +44 1634 818308
Share on Twitter
Share on Facebook