Dentsu's app-based urban renewal campaign takes the Grand Prix at the 2019 IPRA Golden World Awards, while Riga Airport resonates with global creativity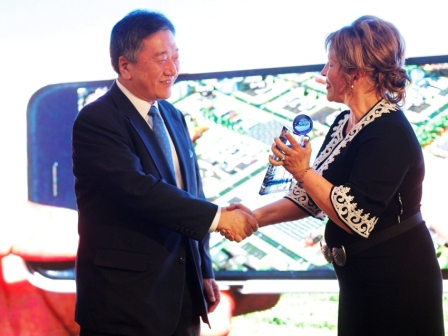 (Comments)
4 years, 2 months ago
The Grand Prix 2019 in the IPRA Golden World Awards for Excellence (GWA), the world's most prestigious PR awards scheme, went to Kobayashi city department of SimCity Buildit, a clever urban renewal campaign by Japan's Dentsu PR. The provincial city of Kobayashi faces issues relating to depopulation and brain drain. Dentsu put together game developer Electronic Arts and the local government for a groundbreaking educational initiative leveraging the gaming app SimCity BuildIt to create an ideal future version of the city.
The award was given at a Gala Dinner in Yerevan, Armenia attended by over 150 participants from five continents stretching from Peru via Ghana to Australia.
The evening witnessed a new Global Creativity Award, which went to agency TBWA for Riga Airport Symphony. For an airport passenger to obtain the perfect experience, hundreds of technical units, people, and technologies work synchronously. The campaign created a symphony turning luggage carriers, passengers and trolleys into musical notes.
Also announced on the night was the Global Contribution Award given for PR with an objective of meeting one of the UN's Sustainable Development Goals. This years winner was No barriers tango by Turkish mobile-provider Turkcell. The project sought to reduce inequalities. It created an inspirational film with two characters: Harun who is blind and Ayşenur who is deaf: an ambitious teacher shows them how to perfect the tango.
"This year's event in Yerevan hosted by SPRING PR was one of the most dynamic and fun-filled GWA Galas for many a year," comments Svetlana Stavreva, IPRA's President and chairman of the jury: "I heard so many comments that attendees were impressed by the truly global nature of the event. It was an evening with an atmosphere charged with excitement, music, empathy and team spirit."
Picture: Dentsu Public Relations President Kazunori Azeyanagi receives the Grand Prix from IPRA President Svetlana Stavreva.
Background to IPRA
IPRA, the International Public Relations Association, is the leading global network for public relations professionals. Membership is individual not corporate. It aims to further the development of open communication and the ethical practice of public relations. IPRA fulfils this aim through networking opportunities, its code of conduct and intellectual leadership of the profession. IPRA is the organiser of the annual Golden World Awards for excellence – PR's global awards scheme. With 60 years of experience, IPRA, recognised by the United Nations, is now present throughout the world wherever public relations are practised. IPRA welcomes all those within the profession who share its aim and who wish to be part of the IPRA worldwide fellowship. For more information please visit: www.ipra.org
Background to the Golden World Awards for Excellence.
The annual IPRA Golden World Awards (GWA) initiative, established in 1990, recognizes excellence in public relations practice worldwide in a variety of categories. Recipients of the award take particular pride in the recognition granted to their entry as meeting international standards of excellence in public relations. An overall IPRA Grand Prix for Excellence is presented each year to the entry judged as representing the highest standards that year. While there are many national and regional PR awards, there is only one truly global scheme: the GWA.
Contact
International Public Relations Association Secretariat
United Kingdom
Telephone +44 1634 818308
For further information: [email protected]
Share on Twitter
Share on Facebook