Aeroflot's Sulimov Dogs takes the Grand Prix at the 2018 IPRA Golden World Awards, while the UK's Aequitas gets the Global Contribution Award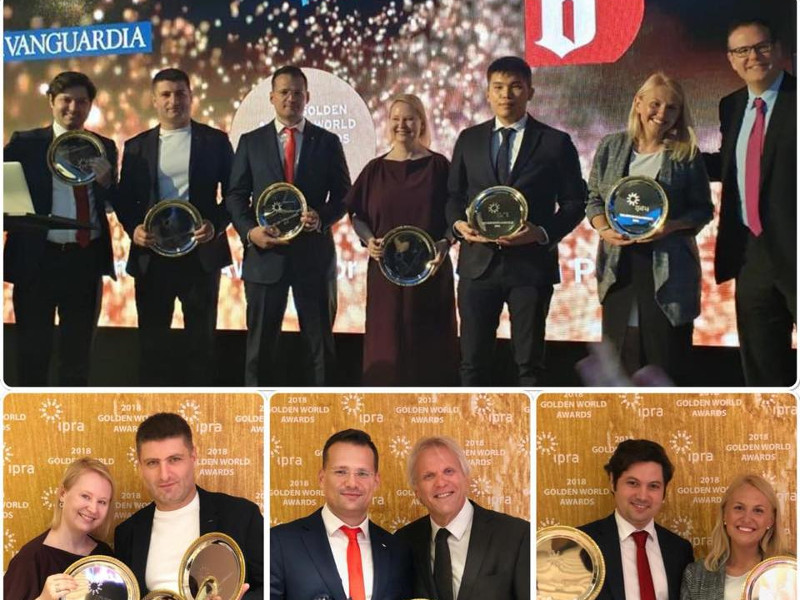 (Comments)
5 years, 1 month ago
Barcelona, Spain


The Grand Prix 2018 in the IPRA Golden World Awards for Excellence (GWA), the world's most prestigious PR awards scheme, went to a heart warming campaign by Russia's FleishmanHillard Vanguard and Orta Comunications Group to promote Aeroflot's 95th anniversary. The airline created a pet therapy programme for children with autism using the company's own breed of Sulimov sniffer dogs. This breed has a character making them suited for interacting with special needs children.
The award was given at a literally sparkling Gala Dinner in Barcelona attended by a record 180 participants from 50 countries stretching from Peru via Ghana to Australia.
Also announced on the night was the prestigious Global Contribution Award given for PR with an objective of meeting one of the UN's Sustainable Development Goals. Saving lives in Anguilla from the UK's Aequitas Consulting and The Pure Anguilla Foundation addressed the UK Government's lack of commitment to the September 2017 hurricane Irma which hit Anguilla, decimating the Caribbean island nation. The campaign targeted UK Prime Minister Theresa May, the UK Foreign Secretary and other policy makers and secured life-saving support for the island.
"This year's event in Barcelona hosted by Blanquerna & Emerson Center for Global Communication was one of our biggest and brightest GWA Galas for many a year," comments Bart de Vries, IPRA's President and chairman of the jury: "I heard so many comments that attendees were astounded by the truly global nature of the event representing every continent. It was an evening with an atmosphere charged with fun, pride and team spirit."
---
Background to IPRA
IPRA, the International Public Relations Association, is the leading global network for Public Relations professionals. Membership is individual not corporate. It aims to further the development of open communication and the ethical practice of public relations. IPRA fulfils this aim through networking opportunities, its code of conduct and intellectual leadership of the profession. IPRA is the organiser of the annual Golden World Awards for excellence – PR's global awards scheme. With 60 years of experience, IPRA, recognised by the United Nations, is now present throughout the world wherever public relations are practiced. IPRA welcomes all those within the profession who share its aim and who wish to be part of the IPRA worldwide fellowship. For more information please visit: www.ipra.org
Background to the Golden World Awards for Excellence
The annual IPRA Golden World Awards (GWA) initiative, established in 1990, recognizes excellence in public relations practice worldwide in a variety of categories. Recipients of the award take particular pride in the recognition granted to their entry as meeting international standards of excellence in public relations. An overall IPRA Grand Prix for Excellence is presented each year to the entry judged as representing the highest standards that year. While there are many national and regional PR awards, there is only one truly global scheme: the GWA.
Contact
International Public Relations Association Secretariat
United Kingdom
Telephone +44 1634 818308
For further information: [email protected]
Share on Twitter
Share on Facebook