2015 IPRA Global Congress Highlghts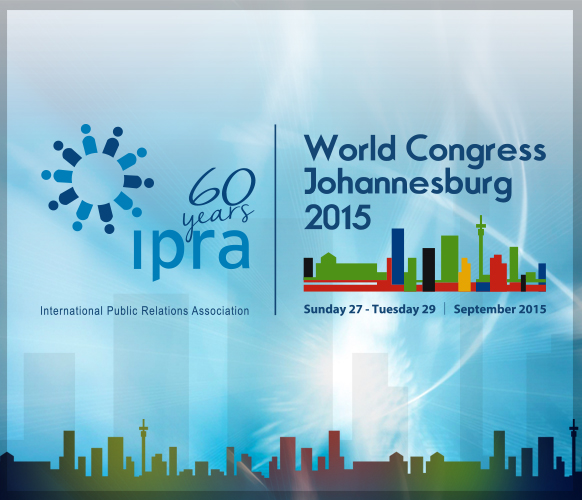 (Comments)
8 years, 2 months ago
The organisers and their partners will present a Congress that features cutting-edge events for delegates and offers a line-up of speakers from all walks of life and varied professional backgrounds, with each speaker gifted in the art of communication.
The congress theme is Leadership in Communication, the way to Trust.
Speakers
It is unlikely that you will get an opportunity to hear such powerful line-up of speakers in one place. The top three speakers include José Filipe Torres, an entrepreneur specialising in country and nation branding; Jaha Dukureh founder of Safe Hands for Girls, a non-profit organisation working to protect girls and young women who are at risk from female genital mutilation and Todd Babiak, a Canadian writer and entrepreneur. He is co-founder of Story Engine, and has published three bestselling novels.
Golden World Awards (GWA)
The annual Golden World Awards (GWA) is a public relations' global awards scheme, hosted by International Public Relations Association (IPRA). Established 21 years ago for the global public relations community to interact and share best practices, its popularity is evident with 30 countries participating in the 2015 GWA and a record level of 430 entries.
The winners in each category were announced in early July. However, the 2015 Grand Prix and the Outstanding Contribution Special Award will only be revealed at the Gala Evening in Johannesburg on 28 September 2015.
Sponsors
The esteemed global sponsors are Joburg Tourism, South African National Convention Bureau, Public Relations Institute of South Africa (PRISA), Burson Marsteller, South African Airways, Seswa 3D, Glasshouse Communication Management, Petra Diamonds, Newsclip and Bizcommunity and WeCollaborate .
Academic Presentations
12 abstracts and nine posters will be presented in the exhibition area at the congress. These have been compiled by local and international university personnel, some being from University of Pretoria (UP) and Kenya Journalism Programme school of Science.
Technology
The APP is available right now. Simply download the IPRA World Congress 2015 APP from the APP STORE. It's available on Android and Apple and best of all its free.
The 60th International Public Relations Association (IPRA) 2015 World Congress and Exhibition from 27-29 September 2015 at the Sandton Convention Centre, Sandton, Johannesburg.
Share on Twitter
Share on Facebook