Three reasons not to miss the 2015 IPRA World Congress in Johannesburg
(Comments)
7 years, 7 months ago
The 60th International Public Relations Association (IPRA) 2015 World Congress and Exhibition is taking place in South Africa in September. It is set to be an exceptional event including exciting speakers and new concepts that simply cannot be missed.
The organisers and their partners will present a Congress that features cutting-edge events for delegates and offers a line-up of speakers from all walks of life and varied professional backgrounds, with each speaker gifted in the art of communication.
It is unlikely that you will get an opportunity to hear such powerful line-up of speakers in one place. The top three speakers include José Filipe Torres, an entrepreneur specialising in country and nation branding; Jaha Dukureh founder of Safe Hands for Girls, a non-profit organisation working to protect girls and young women who are at risk from female genital mutilation and Todd Babiak, a Canadian writer and entrepreneur. He is co-founder of Story Engine, and has published three bestselling novels.
These and other speakers such as Author of Trust me, PR is Dead, Robert Phillips, Elena Fadeeva founder and Head of Russia's largest international communications agency, FleishmanHillard and Edelman's Robert Holdheim are set to deliver thought-provoking and interactive dialogue that will produce vital discussion among participants. Delegates will come away from this Congress with a renewed sense of purpose, many new contacts, and valuable new ideas.
From a technology point of view an easy to use IPRA APP designed specifically for the Congress is launching for the first time. Delegates can download the APP which will guide you through the proceedings by providing:
Schedule of each day's events
Links delegates to relevant social media hubs
Sends reminders for upcoming events
Broadcasts breaking news
Includes a dining and sightseeing guide
The APP is available right now. Simply download the IPRA World Congress 2015 APP from the APP STORE. It's available on Android and Apple and best of all its free.
This is also the first time that there will be an exhibition at the Congress that focuses on the Public Relations Industry's needs and wants.
An African Market will run during the three days of the Congress, bringing 'Africa' to attendees.
The 60th International Public Relations Association (IPRA) 2015 World Congress and Exhibition from 27-29 September 2015 at the Sandton Convention Centre, Sandton, Johannesburg www.ipra.org/congress
Read [A warm welcome to the City of Johannesburg]
Also you can see: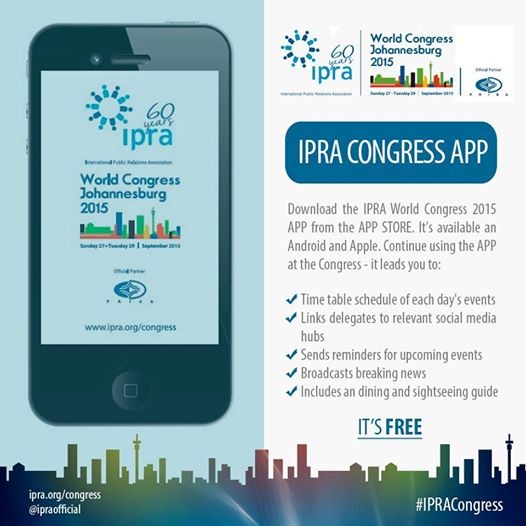 Share on Twitter
Share on Facebook