Message of the President of IPRA - August 2015
(Comments)
7 years, 7 months ago
Dear members and colleagues,
As we enter August, and just a few weeks before our wonderful 60 year anniversary Congress in Johannesburg www.ipra.org/congress, I would like to talk about the profile of PR professionals today. The Congress is all about "Leadership in Communication – the way to Trust." What is it that leaders today require? I would suggest there are three key skills: coaching, emotional intelligence and neuro-linguistic programming.
These skills may be found in programmes of training and development, and it is essential that PR practitioners access such knowledge and its multiple benefits, because it will help them to understand the complexity of the interaction between the publics and the organisation.
Three key skills
PR practitioners familiarised with coaching develop the capability to identify the potential within their co-workers. This in turn can help with those public interactions.
Emotional intelligence comes into play as a way to understand the necessary balance of feelings in order to avoid negativity.
Neuro-linguistic programming helps with the formulation of clarity in messaging, pro-activity and the fostering of a positive climate within the targeted publics.
And so the Congress
These three skills lead to the building of relationships based on trust, the theme of our Congress.
In closing I wish to ask everyone of you to join me at the IPRA World Congress in Johannesburg from September 27 -29. The programme is outstanding: keynote speakers and industry leaders are already profiled on the Congress website. This will be the place to learn and I will be looking out for our line up of global speakers to demonstrate one or more of these three keys skills! Tickets are available right now via our website.
Dr. Amybel Sánchez de Walther
President of IPRA 2015
Also you can see: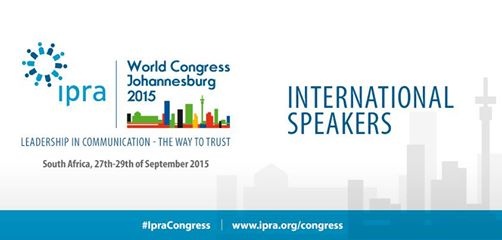 Share on Twitter
Share on Facebook