Invitation to an IPRA webinar on Communicating with GenZ: the challenges and opportunities Friday 15 July 2022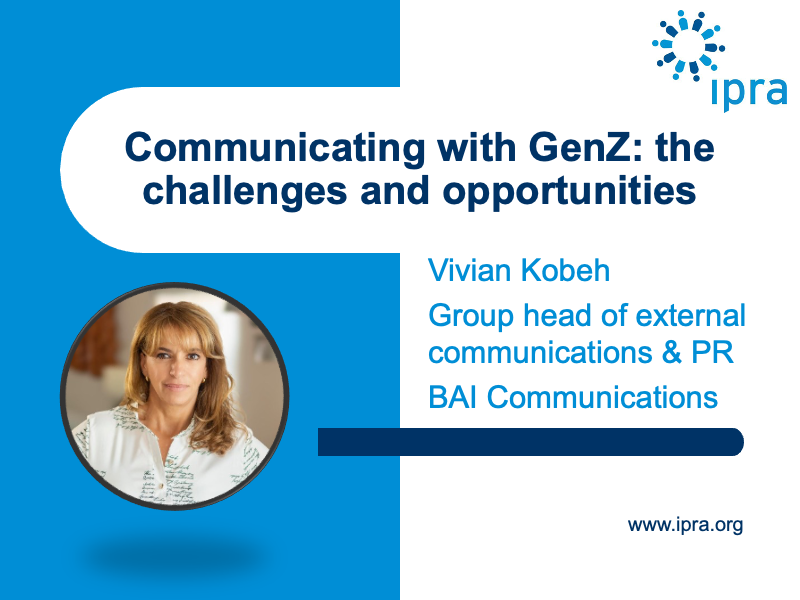 (Comments)
9 months, 1 week ago
I am pleased to invite you to the next in the series of IPRA Thought Leadership webinars. The webinar Communicating with GenZ: the challenges and opportunities will be presented by Vivian Kobeh, on Friday 15 July 2022 at 12.00 GMT/UCT (unadjusted).
What is the webinar content?
For the past 5 years I led a communications practice where the majority of our +21,000 employees were young. This generation has different ways of receiving and digesting information. The webinar will be about the major differences between Millennials and GenZ communications at a time when companies are measured by their values and by how they walk the talk.
How to join
Register here at Airmeet. (The time shown should adjust to your device's time zone.)
A reminder will be sent 1 hour before the event.
Background to IPRA
IPRA, the International Public Relations Association, was established in 1955, and is the leading global network for PR professionals in their personal capacity. IPRA aims to advance trusted communication and the ethical practice of public relations. We do this through networking, our code of conduct and intellectual leadership of the profession. IPRA is the organiser of public relations' annual global competition, the Golden World Awards for Excellence (GWA). IPRA's services enable PR professionals to collaborate and be recognised. Members create content via our Thought Leadership essays, social media and our consultative status with the United Nations. GWA winners demonstrate PR excellence. IPRA welcomes all those who share our aims and who wish to be part of the IPRA worldwide fellowship. For more see www.ipra.org
Background to Vivian Kobeh
Vivian Kobeh is group head of external communications and PR for BAI Communications, a world leader in shared communications infrastructure. She is responsible for leading global strategy with responsibility for storytelling, media relations, and long-term relationships. Prior to BAI, she was director of corporate communications at Millicom, a provider of fixed and mobile services in Latin America and Africa. Vivian has spent more than 25 years in the US technology sector, performing marketing and communications roles at BlackBerry, Nokia, and Dell. Vivian has a BA in Communications from the Universidad Iberoamericana. She was a pioneer of LinkedIn's Latin America communicators. In 2020 PRNews named Vivian a Top Women in PR Honoree.
Contact
International Public Relations Association Secretariat
United Kingdom
Telephone +44 1634 818308
Share on Twitter
Share on Facebook