The International Public Relations Association wraps its values around a new definition of public relations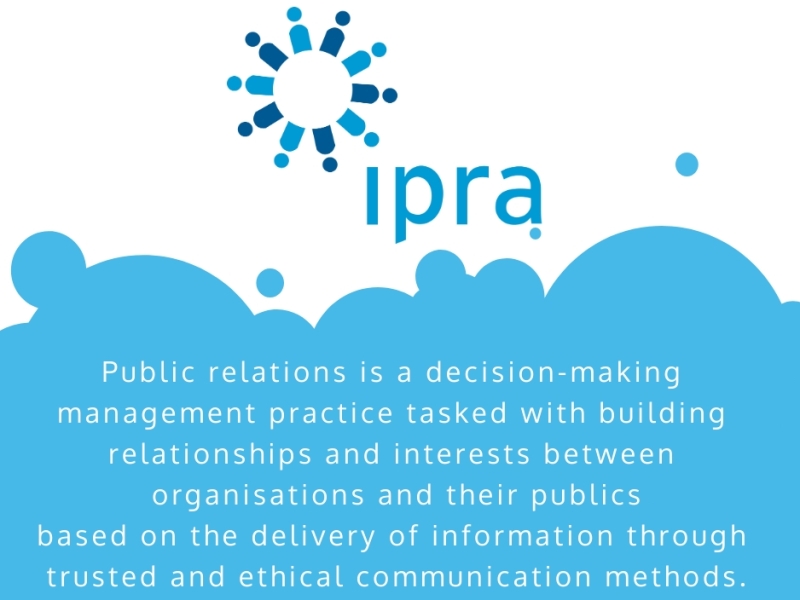 (Comments)
3 years, 11 months ago
After months of exhaustive debate IPRA, the International Public Relations Association, has created a new definition of PR, fit for the times we live in.
The 30-word definition reads: Public relations is a decision-making management practice tasked with building relationships and interests between organisations and their publics based on the delivery of information through trusted and ethical communication methods.
Chair of the group charged with formulating this definition, and IPRA Board member, Alain Grossbard explains; "First we wanted to have a short definition that said: What is PR? Why do we do it? And how do we do it? Then, conscious of our heritage based on the IPRA code, and of a world today imperilled with fake news, we wanted to say something more. This is how IPRA members do PR and how we think the world should do PR. That is PR based on trust and ethics."
Svetlana Stavreva, IPRA President continues: "Is this the last word? Experience tells us otherwise. Practitioners and academics have been defining PR for decades. Seminars have been dedicated to it. IPRA humbly offers our definition as we see it today. All feedback is welcome."
The definition was adopted by the IPRA Board at its recent meeting in Yerevan, Armenia. More detail on our website here.
Background to IPRA
IPRA, the International Public Relations Association, was established in 1955, and is the leading global network for PR professionals in their personal capacity. IPRA aims to advance trusted communication and the ethical practice of public relations. We do this through networking, our code of conduct and intellectual leadership of the profession. IPRA is the organiser of public relations' annual global competition, the Golden World Awards for Excellence (GWA). IPRA's services enable PR professionals to collaborate and be recognised. Members create content via our Thought Leadership essays, social media and our consultative status with the United Nations. GWA winners demonstrate PR excellence. IPRA welcomes all those who share our aims and who wish to be part of the IPRA worldwide fellowship. For more see www.ipra.org
Share on Twitter
Share on Facebook