Message from the IPRA President: 10, 9, 8, 7... December 2019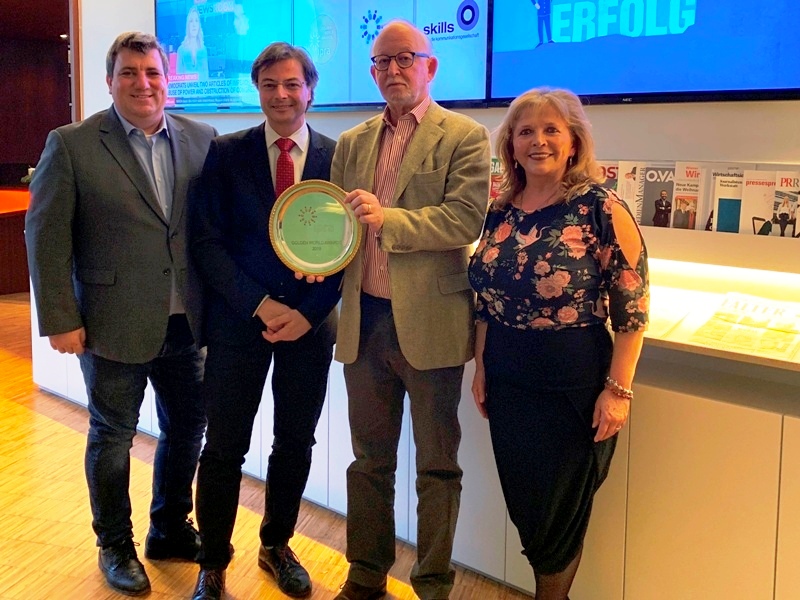 (Comments)
3 years, 11 months ago
As we count down to Christmas I want to thank you all for your contributions to the momentum we managed to build this year. And what a surge in momentum it was.
We worked hard
As part of IPRA's Golden World Awards 2019 we judged and selected excellence from the world's best public relations campaigns. And the momentum of that, as you can see in the photograph, continued into this week of December when I handed over an IPRA GWA to the Austrian Skills Group for their PR campaign promoting the Innovation in Politics Awards which are dedicated to shaping the reputation of politics in Europe.
We achieved a lot together
Thanks to the collaboration of IPRA Board members and based on the feedback we received from you - IPRA members all over the world - we shaped a PR dialogue on four continents from the Americas, through Europe to Africa and Asia. We signed or renewed 12 co-operation agreements with national PR associations, bringing our total up to 30 such agreements. In 2019, after an 11-year gap, we issued a new IPRA Gold Paper The Changing Face of Executive Reputation co-authored by IPRA Board member Enric Ordeix. After several months of intense discussions we offered the world a renewed and thought provoking definition of PR fit for the times we live in. The definition is now being translated globally and we will update the web site with those translations in January.
We celebrated in style
The GWA Gala in Yerevan was a stylish celebration of PR excellence, setting the bar high for the IPRA GWA Gala 2020 in Vilnius, Lithuania. Our IPRA endorsed events such as the 1st Forum of PR specialists from Turkic-speaking countries in Azerbaijan, the 17th PRO PR Conference in Croatia, the FINEX exhibition and the 15th International PR Symposium in Iran, and the Eventiada IPRA GWA Forum in Moscow, added to a year of activity and global influence.
Looking to 2020
I am very proud to have been asked by the IPRA Board to be the IPRA President for a second term from January to December 2020. Being elected again to serve IPRA is a great honour that comes with great responsibility. However, when I reflect on all we have done in 2019 to advance our mission – to lead trust and ethics in global communication – I am confident that together we will continue this momentum into 2020 and make that year a special one for all of us. Thank you.
Here is wishing you and your loved ones a merry and peaceful Christmas and a Happy New Year!
Svetlana Stavreva
President 2019 – 2020
Share on Twitter
Share on Facebook