IPRA judges select Grand Prix at Eventiada IPRA GWA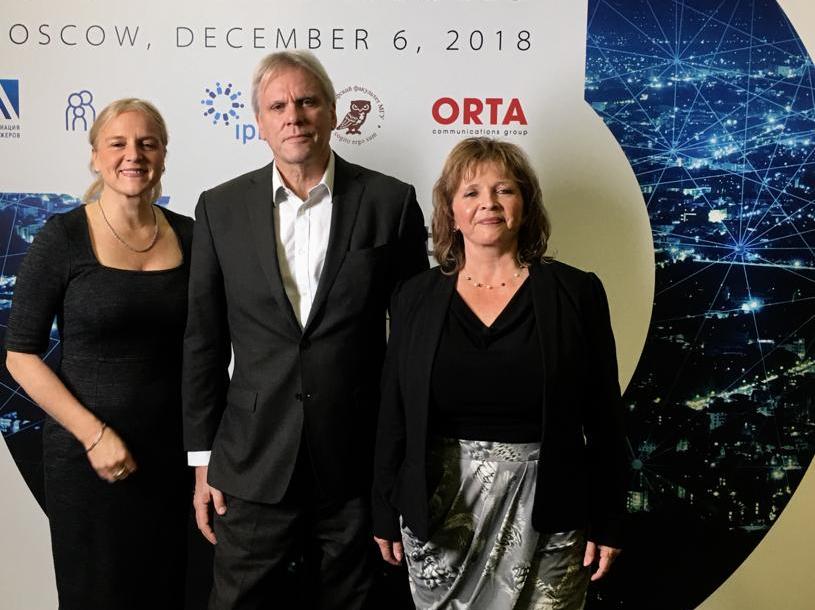 (Comments)
4 years, 9 months ago
Eventiada IPRA Golden World Awards (GWA), the largest communications award in Eastern Europe, CIS countries and Central Asia, a regional partner of IPRA Golden World Awards, the global award organized since 1990 by the International Public Relations Association, honored its nominees and winners during the 8th Eventiada IPRA GWA Gala Ceremony. In 2018 projects from 13 countries competed for the attention of international jury: Azerbaijan, Armenia, Belarus, Bulgaria, Hungary, Kazakhstan, Latvia, Poland, Russia, Serbia, Tajikistan, Croatia and Estonia.
This year Eventiada IPRA GWA awarded the most outstanding campaigns by such global brands, leading national corporations, public and governmental organizations as Adidas, Aviasales, AVON, BMW, Coca-Cola, Croatia Insurance, CTC Media, Gazprom, Government of the Republic of Kazakhstan, GSK, Home Credit Bank, IBIS Western, IKEA, Jaguar, Kinder, Latvijas Balzams, LG Electronics, Mastercard, Megafon, Ministry of Finance of Latvia, Ministry of Health of the Russian Federation, MOESK, MTS, Nestle, NNG, Nornickel, OTP Voluntary Pension Fund, Pfizer, Rosatom, S7, Samsung Electronics, SUEK, Tele 2, UFC, Universal, Velcom.
For the first time in history, Eventiada IPRA GWA Grand Prix, the most prestigious nomination for the excellence in communications, was also awarded with co-winners IBIS Western and Public Dialog (Poland) for "Ibis – music lives here" campaign and MTS (Russia) for "Generation M" campaign.
Bart de Vries, IPRA's President: "I highly appreciate the strategic partnership between International Public Relations Association and Eventiada IPRA GWA. It was a real pleasure to look at such quality projects from Eastern Europe, Russia and Central Asia. As the jury worked, I was able to see the new original ideas and exceptional solutions, laureates' presentations were very memorable, and the exchange of experience and best practices provided a new push for the development of the industry".
Alexey Safronov, President of the Eventiada IPRA GWA, General Director of Orta Communication Group: "Eventiada IPRA GWA is an important platform for the dialogue between leaders of communications industry in Eastern Europe. The event defines the common interests and contributes to the development of cultural and professional connections between professionals, organizations and countries".
Elena Fadeeva, General Director of FleishmanHillard Vanguard, Chairwoman of Eventiada IPRA GWA Board: "In its 8th year Eventiada IPRA GWA has grown its geography again, justifying its position as the largest communication award in the Eastern Europe. Our international jury awarded the most outstanding campaigns from 13 countries of Eastern Europe, Russia and Central Asia. Eventiada IPRA GWA today sets the standards of innovations and excellence in communications. I congratulate all this year's winners with the international recognition of their work and achievements".
Paweł Bylicki, CEO of Public Dialog, Poland, co-winner of the Grand Prix: "Eventiada IPRA GWA is truly amazing and well organized PR award which has been promoting excellence in the field of strategic communication programs. The contest is very transparent and provides valuable feedback from jury members. For us this year's event was very successful, we were not expecting that our project would win the Grand Prix. I can only strongly recommend Eventiada IPRA GWA for agencies, clients, NGOs and administration for future".
Ekaterina Filatova, MTS representative, co-winner of the Grand Prix: "We are thankful to the organizers and the jury of Eventiada IPRA GWA for the very interesting and insightful event, in-depth and measured approach to judging during the public presentation of the projects. Such high marks from international jury indicate appreciation of the input of all partners and participants of our project".
---
Eventiada IPRA GWA is organized by Orta Communications Group, International Public Relations Association, Association of Managers, Moscow State University, Russian State Social University, and is supported by Ministry of Health of the Russian Federation, Ministry of Natural Resources and Environment of the Russian Federation, RAPR, AKMR, RASO and AKOS, as well as Latvian Association of Public Relations Professionals, Armenian PR Association, Azerbaijan Public Relations Association, Bulgarian Association of PR Agencies, Estonian Public Relations Association, Croatian Public Relations Association and Romanian Public Relations Association.
---
Contact
International Public Relations Association Secretariat
United Kingdom
Telephone +44 1634 818308
Share on Twitter
Share on Facebook