IPRA helps plan UN's largest ever NGO event which ends in a call to re-awaken multilateralism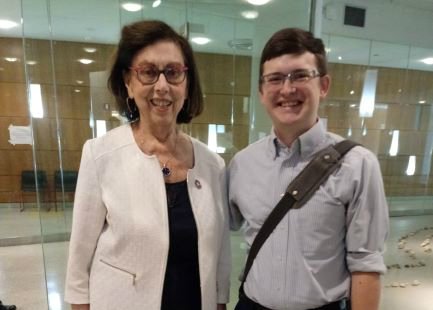 (Comments)
4 years, 8 months ago
Date: 18 September 2018 London, United Kingdom
IPRA helped plan the 67th UN Department of Public Information NGO conference at UN headquarters New York in late August 2018. Under the theme: Together finding global solutions for global problems, the conference attracted the largest number of delegates of any previous New York conference: 2,500 civil society registrants from over 130 countries.
The conference ended with an outcomes document which included a commitment by those present to "redouble our efforts to establish people-centered multilateral cooperation in a spirit of global citizenship." Some 40 workshops addressed numerous themes including: Women and girls mobilizing; the Universal Declaration of Human Rights at 70; Youth: today's leaders; Shared planet, shared prosperity; Towards UN 75, communicating the case for multilateralism.
IPRA's UN representative Barbara Burns was co-chair of the workshop sub-committee and a member of the planning committee. And IPRA's youth representative to the UN, Matthew Cossel, was hired as a conference consultant to help DPI with planning and execution. Ms. Winnie Byanyima, executive director of Oxfam International, was chair of the conference.
IPRA is a non-governmental organization (NGO) associated with the United Nations Department of Public Information (DPI) based in New York. This relationship was established in 1984.
---
Background to IPRA
IPRA, the International Public Relations Association, is the leading global network for Public Relations professionals. Membership is individual not corporate. It aims to further the development of open communication and the ethical practice of public relations. IPRA fulfils this aim through networking opportunities, its code of conduct and intellectual leadership of the profession. IPRA is the organiser of the annual Golden World Awards for excellence – PR's global awards scheme. With 60 years of experience, IPRA, recognised by the United Nations, is now present throughout the world wherever public relations are practised. IPRA welcomes all those within the profession who share its aim and who wish to be part of the IPRA worldwide fellowship. For more information please visit: www.ipra.org
Contact
IPRA member's with questions or interest in documentation from the event should contact [email protected]
International Public Relations Association Secretariat
United Kingdom
Telephone +44 1634 818308
Barbara Burns and Matt Cossel at UN 67 DPI/NGO
Share on Twitter
Share on Facebook