Invitation to an IPRA webinar on effective SMS for PR: 9 September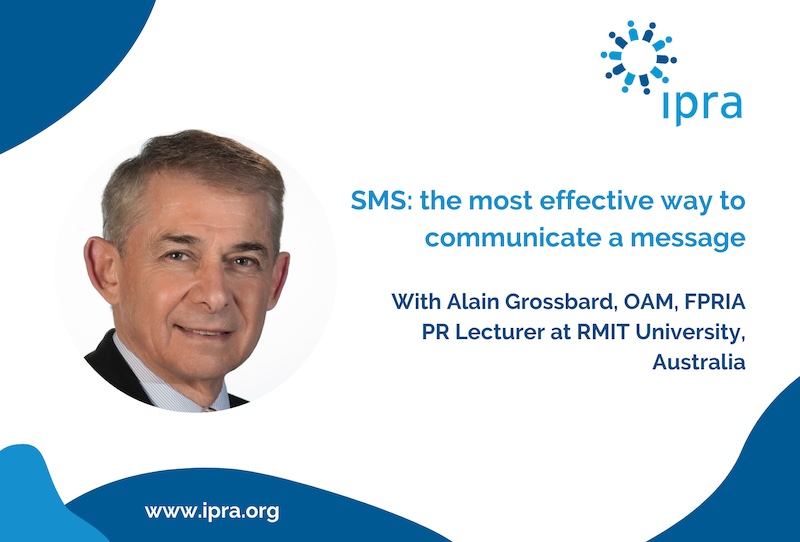 (Comments)
1 year, 9 months ago
I am pleased to invite you to the next in the series of IPRA Thought Leadership webinars. The webinar SMS: the most effective way to communicate a message will be presented by Alain Grossbard, a former Board Member of RMIT University Academic Board, Australia on Thursday 9 September 2021 at 12.00 GMT/UCT (13.00 British Summer Time).
What is the webinar content?
With the power of mobile phones to communicate, only 20 percent of businesses use text to promptly communicate a message, whether it is an urgent matter, or an update, or a direction when there is an issue or problem to be managed. Yet, 83 percent of users would like to receive information via SMS. Why are communicators not steering in this direction?
The webinar will be followed by an interactive Q&A session.
How to join
Register here at Airmeet.
A reminder will be sent 1 hour before the event.
Background to IPRA
IPRA, the International Public Relations Association, was established in 1955, and is the leading global network for PR professionals in their personal capacity. IPRA aims to advance trusted communication and the ethical practice of public relations. We do this through networking, our code of conduct and intellectual leadership of the profession. IPRA is the organiser of public relations' annual global competition, the Golden World Awards for Excellence (GWA). IPRA's services enable PR professionals to collaborate and be recognised. Members create content via our Thought Leadership essays, social media and our consultative status with the United Nations. GWA winners demonstrate PR excellence. IPRA welcomes all those who share our aims and who wish to be part of the IPRA worldwide fellowship. For more see www.ipra.org
Background to the Alain Grossbard
Alain Grossbard is a global authority in SMS (short message service). He has extensive experience as a Chairman, MD, GM in communications for numerous Australian and overseas companies. Alain is now lecturing in public relations and marketing at RMIT University, Australia. He is an IPRA Board member.
Contact
International Public Relations Association Secretariat
United Kingdom
Telephone +44 1634 818308
Share on Twitter
Share on Facebook