Invitation to an IPRA webinar on cross-culture dimensions for PR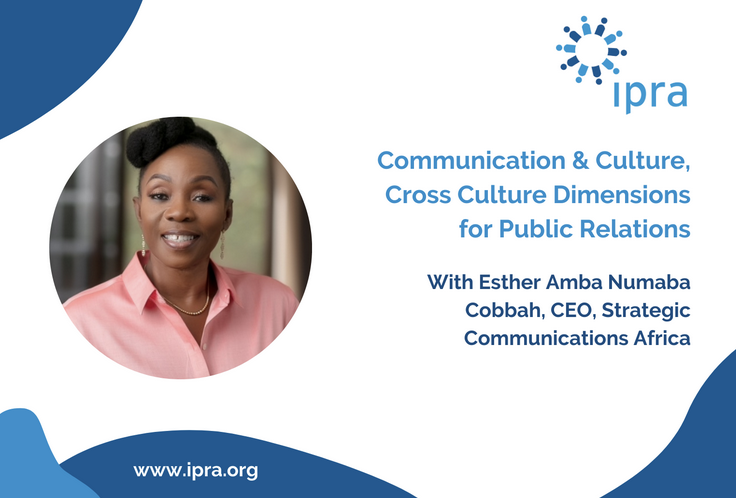 (Comments)
2 years, 5 months ago
I am pleased to invite you to the next in the series of IPRA Thought Leadership webinars. The webinar Communication and culture: cross-culture dimensions for PR will be presented by Esther Cobbah on Thursday 13 May 2021 at 12.00 GMT/UCT (13.00 British Summer Time). Esther is a CEO of the communications agency, Stratcomm Africa based in Ghana.
What is the webinar content?
The webinar will explore the challenges to professional communicators as they attempt to navigate cultural realities in crisis situations. Drawing on the agency's experience during the covid-19 related pandemic we will draw experience from specific African case studies. Further the webinar will explore the cross-cultural dimensions of public relations in a diverse continent.
How to join
Register here at Airmeet.
A reminder will be sent 1 hour before the event.
Background to IPRA
IPRA, the International Public Relations Association, was established in 1955, and is the leading global network for PR professionals in their personal capacity. IPRA aims to advance trusted communication and the ethical practice of public relations. We do this through networking, our code of conduct and intellectual leadership of the profession. IPRA is the organiser of public relations' annual global competition, the Golden World Awards for Excellence (GWA). IPRA's services enable PR professionals to collaborate and be recognised. Members create content via our Thought Leadership essays, social media and our consultative status with the United Nations. GWA winners demonstrate PR excellence. IPRA welcomes all those who share our aims and who wish to be part of the IPRA worldwide fellowship. For more see www.ipra.org
Background to Esther
Esther is Ghanaian and CEO of the award-winning communications agency, Stratcomm Africa based in Ghana. She is an IPRA Board member. She was previously external affairs manager for the West African Gas Pipeline Project and public affairs manager for the Ghana National Petroleum Corporation. In all these roles she has developed innovative communication approaches to address organisational needs. Esther is a graduate of the University of Ghana Legon and Cornell University, USA.
Contact
International Public Relations Association Secretariat
United Kingdom
Telephone +44 1634 818308
Share on Twitter
Share on Facebook