China marketing and PR workshop 2021: Dos and Don'ts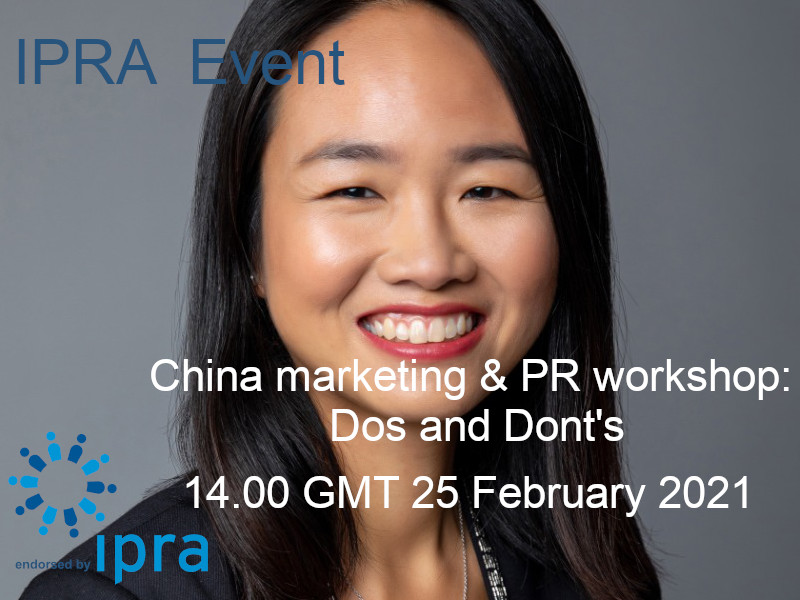 (Comments)
2 years, 9 months ago
I am pleased to invite you to a webinar offered by a new professional IPRA member Sally Maier-Yip. This live event, entitled China marketing and PR workshop 2021: Dos and Don'ts, takes place on Thursday 25 February 2021 from 14.00 – 15.00 GMT/UCT.
Sally is the CEO of London-based 11K Consulting with over 16 years' experience in PR in Asia and the UK. The agency is specialised in helping clients to attract Chinese and Asian high-net-worth individuals, luxury consumers and investors.
What is the webinar content?
The webinar will cover the following themes with plenty of time for a Q&A:
Why China now?

Top 5 practical tips on building your brand reputation in China

3 bad PR campaigns that failed in China

3 good PR campaigns that succeeded in China

Top tips on China business etiquette: how to win the hearts of Chinese clients.
How to join
Register here at Airmeet.
Background to IPRA
IPRA, the International Public Relations Association, was established in 1955, and is the leading global network for PR professionals in their personal capacity. IPRA aims to advance trusted communication and the ethical practice of public relations. We do this through networking, our code of conduct and intellectual leadership of the profession. IPRA is the organiser of public relations' annual global competition, the Golden World Awards for Excellence (GWA). IPRA's services enable PR professionals to collaborate and be recognised. Members create content via our Thought Leadership essays, social media and our consultative status with the United Nations. GWA winners demonstrate PR excellence. IPRA welcomes all those who share our aims and who wish to be part of the IPRA worldwide fellowship. For more see www.ipra.org
Background to 11K Consulting
11K Consulting is a PR agency specialised in helping clients to attract Chinese and Asian high-net-worth individuals. Their clients are a mix of high-end property developments, interior design, architecture, education, restaurants, luxury retail and lifestyle companies. For more information contact [email protected] or follow them on LinkedIn for daily China insights.
Contact
International Public Relations Association Secretariat
United Kingdom
Telephone +44 1634 818308
Share on Twitter
Share on Facebook