Today is the early-bird entry deadline for the IPRA Golden World Awards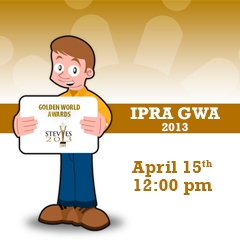 (Comments)
10 years, 5 months ago
Today is the early-bird entry deadline for the 21st annual IPRA Golden World Awards, the top international public relations awards competition. You'll save £50 per entry if you submit your nominations before 12:00 pm GMT tomorrow.
The IPRA Golden World Awards for Excellence offer world-wide recognition and acclaim to world-class public relations programmes. The 2013 competition, conducted by the International Public Relations Association, is open to local, regional, national or international public relations programmes carried out or completed in 2012/2013.
The number of categories in the GWA has doubled this year, as now there are separate categories for Agency and for Inhouse entries.
GWA now features three entry deadlines:
15 April - the early-bird deadline, with a discounted fee of £250 per entry
6 May - final entry deadline, entry fee is £300 per entry
20 May - last day that late entries will be accepted with payment of £50/entry late fee
Review the entry kit and website for complete instructions on how to choose your categories and prepare your entries. When you are ready to submit your entries, begin here.
Contact us with your questions about how to participate in the 2013 edition of IPRA's Golden World Awards for Excellence.
Jim Holt
CEO IPRA    
E-mail: [email protected] | [email protected]
Tel: + 44 1903 744442
Share on Twitter
Share on Facebook