IPRA Golden World Awards announces 50 winners
(Comments)
7 years, 7 months ago
The IPRA Golden World Awards for Excellence: the world's most prestigious PR awards scheme, is delighted to announce a total of 50 winners for 2015.
It was a hard fought battle in the county of West Sussex in southern England. A total of 18 judges from all over the world including Peru, South Africa, The Philippines and Ghana converged into the picturesque English countryside. Finally, after hours of deliberation, 50 winners emerged. And in four cases there were joint winners in a single category as they were all deemed too good to miss out on receiving a Golden World Award.
"This year the competition was fierce with an impressively high standard of entries," explains Amybel Sánchez de Walther, IPRA's President: "the judges were sometimes struggling to pick the winners."
The prestigious Grand Prix was also chosen but the judges have been sworn to secrecy. It will be announced at the Golden World Award Gala Dinner in Johannesburg on September 28 as part of IPRA's World Congress. Winners are rushing now to ensure their seats at the Gala dinner: www.ipra.org/congress
Supplemental information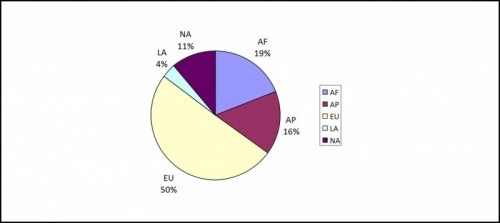 The regional breakdown of the 2015 GWA finalists is:
| | |
| --- | --- |
| Europe | 50% |
| Middle East /Africa | 19% |
| Asia Pacific | 16% |
| North America | 11% |
| Latin America | 4% |
The GWA Gala and announcement of winners takes place in Johannesburg on 28 September 2015 as part of the IPRA 60 years Congress. Book now at www.ipra.org.
Share on Twitter
Share on Facebook