Invitation to an IPRA webinar on Public affairs: the changing nature of political engagement: 9 June 2022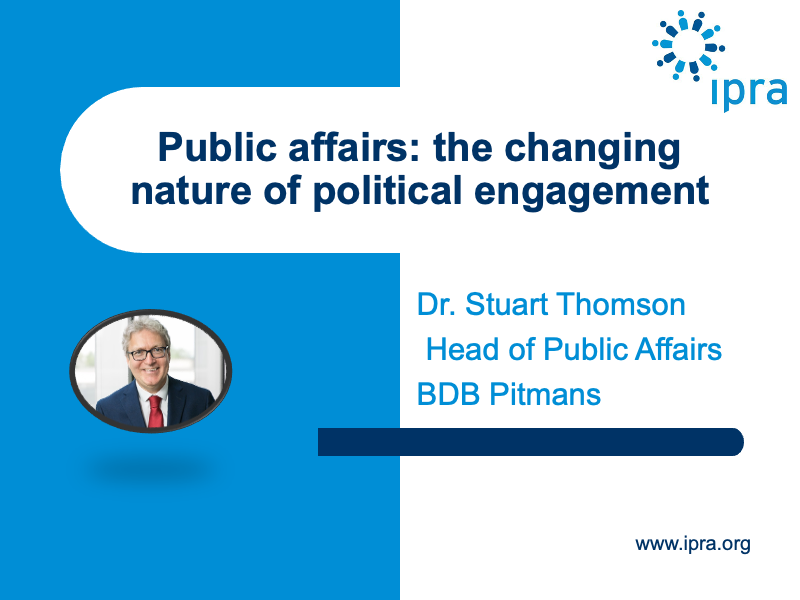 1 year, 6 months ago
I am pleased to invite you to the next in the series of IPRA Thought Leadership webinars. The webinar Public affairs: the changing nature of political engagement will be presented by Stuart Thomson, head of public affairs at BDB Pitmans on Thursday 9 June 2022 at 12.00 GMT/UCT (unadjusted).
What is the webinar content?
Public affairs is not always understood across the PR profession but if political audiences are not managed there may be damage. Public affairs should be viewed as an aspect of reputational management. Done well, it opens up opportunities and deals with threats. Ignored then significant damage can be inflicted. This session will show the valuable role that public affairs can play.
How to join
Register here at Airmeet. (The time shown should adjust to your device's time zone.)
A reminder will be sent 1 hour before the event.
Background to IPRA
IPRA, the International Public Relations Association, was established in 1955, and is the leading global network for PR professionals in their personal capacity. IPRA aims to advance trusted communication and the ethical practice of public relations. We do this through networking, our code of conduct and intellectual leadership of the profession. IPRA is the organiser of public relations' annual global competition, the Golden World Awards for Excellence (GWA). IPRA's services enable PR professionals to collaborate and be recognised. Members create content via our Thought Leadership essays, social media and our consultative status with the United Nations. GWA winners demonstrate PR excellence. IPRA welcomes all those who share our aims and who wish to be part of the IPRA worldwide fellowship. For more see www.ipra.org
Background to Stuart Thomson
Dr Stuart Thomson is a UK-based public affairs and communications consultant. His latest book, Reputation in Business: Lessons for Leaders, will be published by Routledge in late 2022. Stuart has been listed as one of the UK's Top 100 Public Affairs Consultants and in 2020, he won Best Current Affairs Influencer at Vuelio's Online Influence Awards.
Contact
International Public Relations Association Secretariat
United Kingdom
Telephone +44 1634 818308
Share on Twitter
Share on Facebook