Invitation to a webinar to launch the IPRA Climate Change Communications Guidelines: 12 January 2023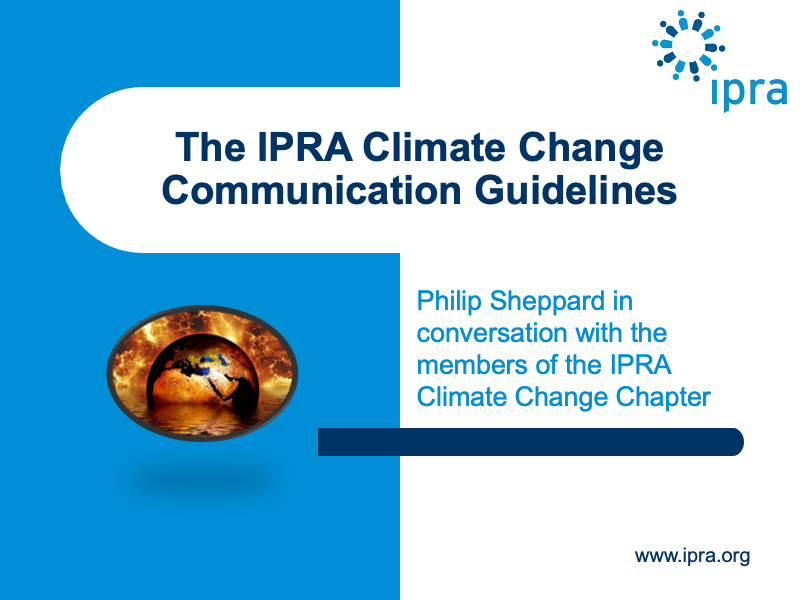 (Comments)
8 months, 2 weeks ago
I am pleased to invite you to the next in the series of IPRA Thought Leadership webinars. The webinar The Launch of the IPRA Climate Change Guidelines will be presented by a panel of IPRA board members moderated by IPRA secretary general Philip Sheppard on Thursday 12 January 2023 at 14.00 GMT/UCT (unadjusted).
What is the webinar content?
To assist the fight against climate change, IPRA will launch a set of Climate Change Communication Guidelines at a globally- streamed webinar. These guidelines take 7 of the 18 articles of the IPRA ethical code of conduct and interpret implementation with respect to climate change communication. The webinar takes the form of a panel discussion being held in Cologne, German and will be streamed using MSTeams.
How to join this MSTeams event
Registration is not required. To join at the start of the meeting click here
Or use this information for the MSTeams app:
Meeting ID: 363 145 943 853
Passcode: AuQyBB

Background to IPRA
IPRA, the International Public Relations Association, was established in 1955, and is the leading global network for PR professionals in their personal capacity. IPRA aims to advance trusted communication and the ethical practice of public relations. We do this through networking, our code of conduct and intellectual leadership of the profession. IPRA is the organiser of public relations' annual global competition, the Golden World Awards for Excellence (GWA). IPRA's services enable PR professionals to collaborate and be recognised. Members create content via our Thought Leadership essays, social media and our consultative status with the United Nations. GWA winners demonstrate PR excellence. IPRA welcomes all those who share our aims and who wish to be part of the IPRA worldwide fellowship. For more see www.ipra.org
Contact
International Public Relations Association Secretariat
United Kingdom
Telephone +44 1634 818308
Share on Twitter
Share on Facebook