2020 Global Contribution winner continues pro-bono work for Croatian charity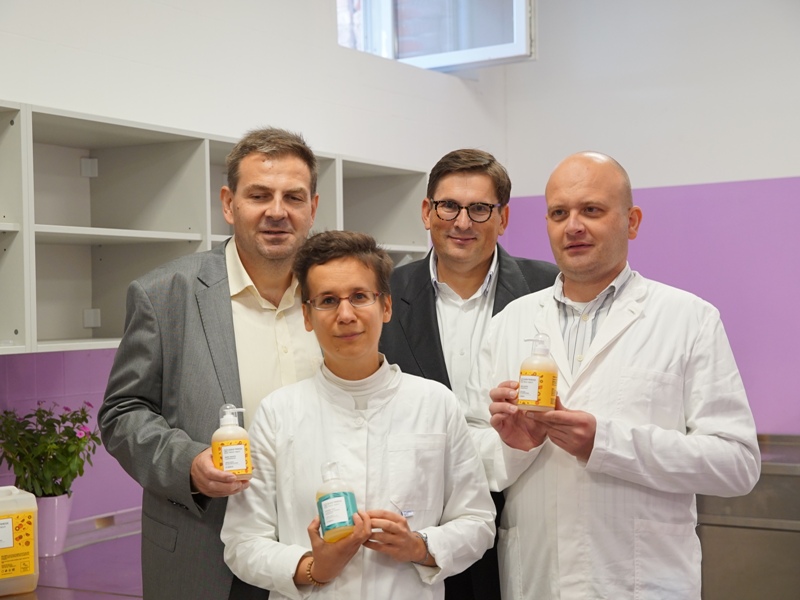 (Comments)
2 years, 8 months ago
IPRA reported earlier this month that the 2020 GWA Global Contribution Award given for PR with an objective of meeting one of the UN's Sustainable Development Goals went to Soaps With Dots from Croatian agency Apriori World for their client The Zagreb Association for the Blind.
In a great follow-up this week, the agency was behind the promotion of a new venture for the same charity. In the presence of senior government representatives the Association opened a production plant for manufacturing of liquid soaps. Like the soap bars, the liquid soaps are manufactured by blind and visually impaired people.
This social project makes soap the old fashioned way with sunflower oil, herbal essences and natural moisturisers. The project is supported by Turkish aid agency TIKA as well as the European Bank for Reconstruction and Development. Might this be a winner for a Golden World Award 2021?
Caption: Danijel Koletić of Apriori World (top right) with project representatives
---
Background to IPRA
IPRA, the International Public Relations Association, was established in 1955, and is the leading global network for PR professionals in their personal capacity. IPRA aims to advance trusted communication and the ethical practice of public relations. We do this through networking, our code of conduct and intellectual leadership of the profession. IPRA is the organiser of public relations' annual global competition, the Golden World Awards for Excellence (GWA). IPRA's services enable PR professionals to collaborate and be recognised. Members create content via our Thought Leadership essays, social media and our consultative status with the United Nations. GWA winners demonstrate PR excellence. IPRA welcomes all those who share our aims and who wish to be part of the IPRA worldwide fellowship. For more see www.ipra.org
Background to the Golden World Awards for Excellence.
The annual IPRA Golden World Awards (GWA) initiative, established in 1990, recognizes excellence in public relations practice worldwide in a variety of categories. Recipients of the award take particular pride in the recognition granted to their entry as meeting international standards of excellence in public relations. An overall IPRA Grand Prix for Excellence is presented each year to the entry judged as representing the highest standards that year. While there are many national and regional PR awards, there is only one truly global scheme: the GWA.
Contact
International Public Relations Association Secretariat
United Kingdom
Telephone +44 1634 818308
Share on Twitter
Share on Facebook