Call for nominations: the IPRA 60th anniversary global merit award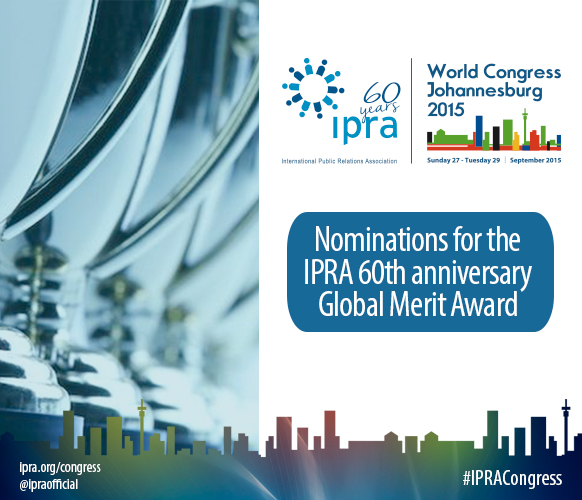 (Comments)
7 years, 3 months ago
To celebrate its 60 year anniversary, IPRA will be making a special award to an individual to recognize: "outstanding contribution to the free flow of information as a major factor in humanitarian benefit." Nominations for this exceptional award open today. The award will be presented in Johannesburg during the IPRA 60th anniversary World Congress, 27 – 29 September. For more information click here.
Nominations are invited now from IPRA members for this special award. We are looking for a high-profile person, with global recognition, and a known track record. She or he can be a politician, an entrepreneur, a social activist or a scientist, an artist or the leader of a corporation who has used communication and information in some way for humanitarian benefit. The nominee must ideally be able to receive the IPRA 60th anniversary global merit award in Johannesburg personally.
The nomination should contain:
the name of the individual and an e-mail contact for the individual
a maximum 25 word summary of the nominee's outstanding contribution
a maximum 200 word description of the detail of the nominee's outstanding contribution.
Please send your nomination to Philip Sheppard, Secretary General at [email protected] by 30 April 2015.
Share on Twitter
Share on Facebook