IPRA and Syntec PR get together for the ReputationWar Conference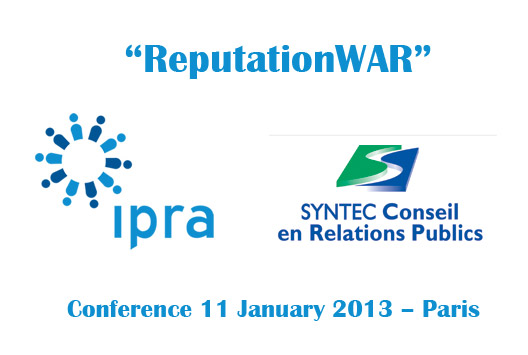 (Comments)
9 years, 10 months ago
Conference 11 January 2013 – Paris
IPRA (The International Public Relations Association) under its 2013 President, Christophe Ginisty and Syntec Conseil en Relations Publics, representative body of the french PR community, have joined forces to organise a conference – ReputationWar. This will build on the work of Syntec's Digital Commission, led by Pascale Azria of KingCom on the impact of social media on communication strategies.
The Reputation War Conference taking place 11th January 2013 at "Sciences Po" University and the address is : 13, rue de l'Université 75007 Paris. Time 9 a.m. – 5 p.m and they can buy tickets at this link http://www.reputation-war.fr
A topic for today – changing every day
The ever increasing number of information sources and the explosion of social media has led to a situation where every word or deed of organisations and individuals is scrutinised by an attentive audience ready to pass judgement
Tomorrow, reputations will be managed in a frenetic environment. Brands, companies, leaders and even ordinary citizens will have their image examined and even trashed by a public opinion demanding ever higher levels of openness and ethical behaviour.
The object of ReputationWar is to unpick this situation and to provide those attending with tools to deal with the future.
A concern on every leader's mind
This conference is designed for all those who must manage a brand, a company, or organisation – government and non- government.
It is for all those, communication professionals and managers alike, who understand that reputation is a vital part of their organisation's capital
Access to the conference is open to all – a nominal charge of 50 euros will be made to cover refreshments. But numbers will be limited by the available space.
Structure of the Conference
The conference will take up the whole day of 11th January.
The morning will be devoted to presentations by international experts in the field – drawn from the worlds of business, research and academia. The afternoon will be given over to workshops to enable participants to work together on the problems related to reputation management.
A new kind of organising committee
In addition to the leaders of IPRA and the agencies linked to Syntec RP the organising committee consists entirely of volunteers who responded to an appeal launched by Christophe Ginisty on his blog (LINK) last September. Thus a group of 165 or so people  have come together to bring the project to a successful conclusion.
This project was born on social media in a spirit of openness and cooperation.
Share on Twitter
Share on Facebook